Paul Rudd filmed the moment Ryan Reynolds 'blacked out' when Wrexham promotion was confirmed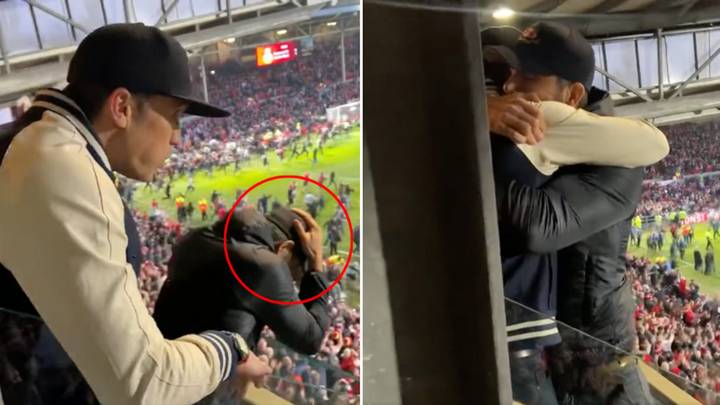 Hollywood actor and all-round nice guy Paul Rudd captured the moment Ryan Reynolds "blacked out" after Wrexham's promotion to League Two was officially confirmed.
Rudd joined Wrexham owners Ryan Reynolds and Rob McElhenney at The Racecourse Ground on Saturday afternoon to witness one of the most historic moments in the club's 158-year history.
The 54-year-old sat next to both Reynolds and McElhenney in the stands and to his credit, he whipped out his phone out to film what was an emotional moment after the full-time whistle.
As you can see in the footage above, Ryan and Rob shared a hug after Wrexham secured promotion to the Football League.
But before they shared that embrace, Reynolds can be seen with head in hands. In fact, according to the Deadpool actor, he "blacked out" during this surreal moment.
He posted the footage on Twitter saying: "Rob and I kinda blacked out during this moment, but somehow we'll never forget it."
McElhenney added: "You can see something leave both of our bodies at the same time. And then we're filled back up with an indescribable amount of joy and gratitude."
Here's how fans reacted to Rudd filming the scene.
One said: "A true friend for filming the moment," while another commented: "Paul understood the assignment. Yes he got to be there but he knew he had to get that special moment in close just incase."
A third added: "This whole story is SO heartwarming, when let's face it, there's not a whole lot else to be cheery about right now! Well done to you all, absolutely incredible!"
After the full-time whistle, Wrexham owners McElhenney and Reynolds gave a wonderful interview on the pitch, where the latter reserved praise for rivals Notts County.
"I am not sure I can process what happened tonight. I am still a little speechless," Reynolds told BT Sport.
"[People ask] 'Why Wrexham?'. This is why Wrexham. This happening, right now, is why. Boreham Wood showed up today. They are an incredible team. They have one of the best defences in the entire league."
The Deadpool actor then paid tribute to Notts County, he added: "This entire story, the reason we are all on edge of our seats is because Notts County are so damn good. They deserve to go up.
"We are rooting for Notts County. We want to see them go up."
Must be said. Ryan Reynolds has shown nothing but class since arriving at Wrexham. Treats every opponent with the utmost respect and often reserves praise for Notts County in his interviews. Football needs more owners like himpic.twitter.com/9xc5HBsfyy

— Jack Kenmare (@jackkenmare_) April 22, 2023
McElhenney added: "Well I think we can hear what it feels to the town. It's a time of celebration and be welcomed into their community and be welcomed to this, it is the honour of my life."