18-year-old Roma star Cristian Volpato rejected multiple offers to play for Australia at the World Cup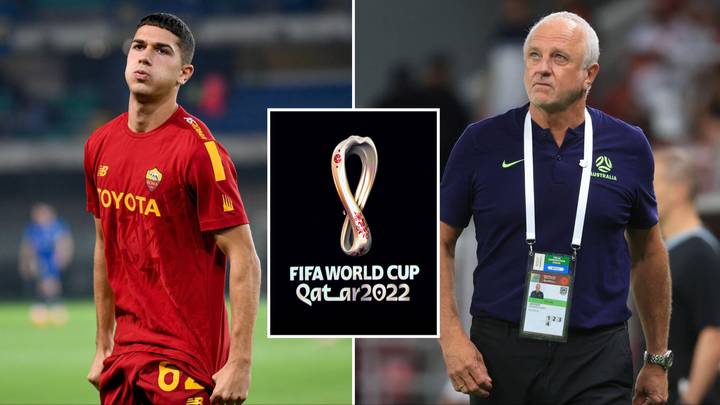 Roma's 18-year-old midfielder Cristian Volpato has rejected multiple offers to represent Australia in the upcoming World Cup in Qatar.
Socceroos boss Graham Arnold named his 26-man squad for the tournament on Tuesday and Volpato's name was nowhere to be seen.
Arnold later revealed that he wanted to name the Roma youngster in his squad, but Volpato wasn't too keen.
"I pretty much told him yesterday he was in the 26-man squad," Arnold said to Fox Sports.
"He wanted to go away and think about it. He wanted to speak to the people around him that helped guide his career."
Arnold continued: "And he came back last night and declined the offer to come and play for Australia at the World Cup. That's his decision at the end of the day."
The Australia boss was then quizzed on how long he tried to persuade Volpato to join his team. He replied: "Right up until probably 11pm last night.
"It's not my decision. I spoke to Cristian yesterday three times. Before that, I'd spoken to him on numerous occasions."
Volpato was born in Sydney, and due to the fact that his parents are Italian, he holds dual citizenship. The midfielder has already represented Italy at Under-20 level.
Due to Italy's failure to qualify for the World Cup, Australia were hoping to name him in their squad.
As Volpato is yet to make his senior national team debut, he is in the position to choose whether he wants to play for Australia or Italy.
Despite the rejections, Arnold remains positive about Volpato's future as a Socceroo.
He added: "Cristian is a great kid. It's an extremely difficult decision for the kid to make and he's got people around him who have given him advice.
"He wants to make this big decision when there are two countries he can play for in Australia and Italy."
Arnold added: "He made that decision and he declined our opportunity to come and play for Australia at the World Cup. It doesn't mean that he won't do that in the future."
Before moving to Roma, Volpato played for Australian outfits Sydney FC and Western Sydney Wanderers.
The Serie A giants offered Volpato a trial after he was released in Australia, and after a successful trial, he signed a three-year deal with the club.
Jose Mourinho gave him his senior debut this season and he has impressed so far this campaign.
Australia are facing a huge task if they want to qualify for the knockout stages. They are in Group D alongside Tunisia, Denmark and defending champions France.