Qatar TV show mock Germany's World Cup exit by covering their mouths and waving goodbye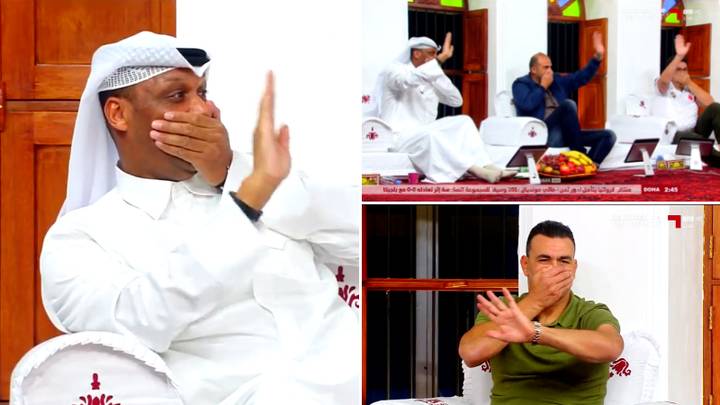 Several guests on a Qatar TV show mocked Germany's early World Cup exit by covering their mouths and waving goodbye.
Germany, England, the Netherlands and other European nations had planned to wear the armband to show solidarity with the LGBTQ+ community, but they backed down following the threat of sporting sanctions.
A post on Twitter read: "It wasn't about making a political statement – human rights are non-negotiable. That should be taken for granted, but it still isn't the case. That's why this message is so important to us.
"Denying us the armband is the same as denying us a voice. We stand by our position.
"We wanted to use our captain's armband to take a stand for values that we hold in the Germany national team: diversity and mutual respect. Together with other nations, we wanted our voice to be heard."
In one segment, a number of guests covered their mouths and waved at the camera.
The Independent's chief football writer Miguel Delaney commented on the clip, saying: "It's remarkable to see how parts of Qatar have been rattled by a simple show of solidarity with the LGBTQ+ community - when everybody is supposed to be "welcome".
He added: "Germany may be out but they claimed a bigger win - the players, ironically, used their voice."
It was reported last week that the German FA would take FIFA to the Court of Arbitration for Sport over the OneLove armband ban.
REWE chief executive Lionel Souque added: "We stand for diversity and football is diversity. The scandalous behaviour of FIFA is for me as the CEO of a diverse company, as well as a football fan, absolutely unacceptable."
German politician Nancy Faeser, meanwhile, sat next to FIFA president Gianni Infantino wearing a OneLove armband during the World Cup clash between Germany and Japan.
Faeser, who is Germany's interior minister, called the armband ban a "massive mistake" by FIFA.
"It breaks the heart of every fan to see how FIFA is also putting the burden of this on to the shoulders of the players," she said.