Phil Foden exclusive: 'My level in an England shirt could be much better'
At the 2018 World Cup, a young Phil Foden watched the first two England games in Russia courtesy of Nike and got a taste of the action as the Three Lions reached the semi-finals and did the country proud.
"I just thought, 'I want to be there one day," Foden explained to SPORTbible.
That dream has become a reality for the 'Stockport Iniesta', who flew to Qatar as part of Gareth Southgate's 26-man squad and made his World Cup debut in the 6-2 win over Iran.
"It's a dream come true. It's always been a dream since a kid to be able to play at a World Cup.
"So I'm just going to try and make the most of it and enjoy it because it could be the last one, you just never know.
"It was nice to receive messages off the family and understand how much it meant to them as well. [It was] very special."
Foden admits he "definitely" still gets a bit nervous when he gets the call to play for England, even though he's now been capped 19 times.
What's more, Foden is the only member of the squad to have already won the World Cup. He was the star of the show in 2017 as Steve Cooper's England Under 17 side replicated the 1966 heroics.
Foden scored twice in the 5-2 win over Spain in the final and won the Golden Ball after a stellar showing in the tournament.
He would then go on to claim the BBC Young Sports Personality of the Year award and was catapulted into stardom.
"Before the tournament you know, we weren't really heard of, none of us players-wise," Foden said five years on from the triumph.
"The second we won it, not just for me, for the whole team as well it's like life changed.
"Everyone was talking about us on social media and saying, 'This player can go on to do this in the first team'.
"It changed our lives and it gave me massive confidence going back to City and training with great players and wanting to improve and get into the team."
After biding his time at boyhood club Manchester City under the tutelage of Pep Guardiola, Foden was soon playing in the biggest games in club football and now has four Premier League winners' medals in his collection.
Individually, he's claimed the PFA Young Player of the Year award back-to-back after impressive consecutive campaigns.
His first England bow came away against Iceland, with Foden "forever grateful" that Southgate allowed him to represent his country.
By his reckoning, his best game in an England shirt also came against Iceland when he bagged a brace in the 4-0 win at Wembley Stadium in November 2020.
But honest as ever, he believes he hasn't quite got going on the international stage, where Foden does feel "some kind of a difference" to club football and notes that it can be difficult to adapt.
"To score my first goals for England was a special moment for me. I would have liked to have scored more in the games that I've played but I think that's coming now. I'm working on it so looking forward to the future.
"I still feel my level could be much better in an England shirt. Sometimes it's not easy going with players you've not really played with before and in a different way.
"It's something you've got to adapt to and live up to. I'm hoping that the next time I get the opportunity to play I can bring my club form in.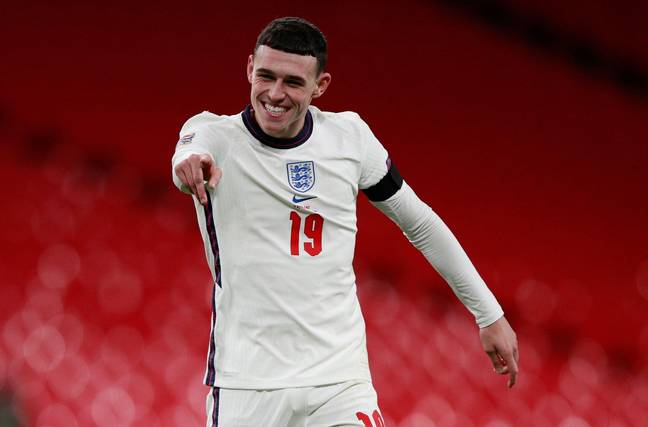 "It's more understanding their game. It's players that I haven't played with before and something that I'm not used to.
"I think it's sometimes hard to adapt to national football but I think I'm understanding it more and getting a connection with the players.
"I'm trying to stay positive and hopefully I can bring my best football."
It's common knowledge that Foden grew up idolising David Silva and got to play with the magical Spaniard at City in his latter years.
England-wise, he liked watching the creative players and has a soft spot for former Arsenal midfielder Jack Wilshere.
"There are so many great players, man. I loved Jack Wilshere when he was playing for England. His playing style was different to any English player that I'd seen before.
"I used to like [Frank] Lampard as well, how he used to arrive late to the box and score a lot of goals.
"I used to love Joe Cole as well, his playing style. It was players like that who were creative and knew how to score."
When he first arrived at St George's Park and trained with the senior squad, immediately he could see the high level.
Captain Harry Kane, in particular, impressed Foden from the off.
"Seeing some of the players that I played against and seeing them in training, the quality was unbelievable.
"I just felt lucky to be part of it, such a special team. What we created at the Euros and how together we were, it was good to see.
"Harry Kane's finishing is the best I've ever seen. So to see him up close in front of goal in training, with both feet as well. Unbelievable. He makes it look so easy.
"Sometimes he doesn't even put power through it, it's just placement."
Foden was part of the squad that reached the Euros final and got the nation believing again. With a slew of games taking place at Wembley and fans piling back into stadiums to belt out Sweet Caroline, it was an experience that Foden and the rest of the team will cherish.
"It was special. A moment that I don't think any of us will ever forget, reaching a final and getting so, so close to winning.
"I'll never forget you know when we won the games and Sweet Caroline was on and with all the fans, doing a lap of honour.
"Moments like that I'll never forget."
There was penalty heartbreak in the final against Italy but Foden was already gutted beforehand after picking up a late injury.
He describes it as "one of the lowest moments of my life".
"[I was] Devastated. I was walking in from training and managed to get injured, how things happen it's crazy.
"Hopefully come this World Cup I stay fit and healthy and help the team."
The squad this time around is largely similar, with a total of six new players picked. Fans saw the strength in depth in the 6-2 win in Iran, when Foden, Jack Grealish, Marcus Rashford and Callum Wilson all made an impact from the bench.
Asked about the options England have, Foden said: "Very strong. Obviously in previous tournaments like the Euros, how far we got, I think we can build on that.
"[There's] so much quality, a young team as well but we've all played at the highest level and in big games.
"It's exciting times and hopefully we can do something.
"It must have been a nightmare for Gareth to pick the team. I'm delighted for the lads at City who are going because I know how much it means to them."
He gets stuck in while on duty with the national team and has been enjoying his hobby with the Panini World Cup sticker book – even recently getting himself in a pack.
"As a kid me and my brother would always [be] collecting everything to do with stickers. Every collection and trading things.
"I still do collections now with my son putting them in and what not just like I used to. I got myself the other day and my son was like, 'Aw, there's you daddy!'"
Throughout the 2022 FIFA World Cup™, McDonald's UK will fund the redistribution of more than 1 million meals through FareShare to those who need it most. Find out more by visiting www.mcdonalds.com/mcdelivery
Commenting on the scheme, England superstar, Phil Foden, said: "McDonald's and FareShare are making sure more than one million meals get to people across the country who need them most. I've got some great memories of watching football as a kid, surrounded by family and friends.
"I really hope that this partnership means more families can enjoy a good meal this winter and create some amazing memories of their own. It's such an important issue and I was happy to help out."