Peter Drury Was At His Poetic Best When The Final Whistle Blew At The Bernabeu, It's A Masterpiece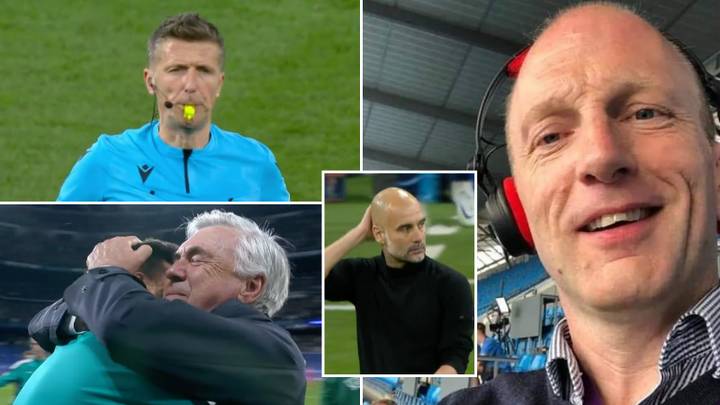 Peter Drury, a man known by many as the most articulate commentator in the business, once again proved his skills on the mic with a poetic masterpiece in the aftermath of Real Madrid's dramatic Champions League win against Manchester City.
Here is Drury in action below. How good is this?
It was a historic night at the Bernabeu. After a 73rd minute strike from Riyad Mahrez put the visitors 5-3 ahead on aggregate, it looked like Pep Guardiola's side were destined to come up against Liverpool on Saturday, May 28 at the Stade de France in Paris.
But in a quite remarkable turn of events, Madrid forward Rodrygo scored two goals in the final minutes before Karim Benzema sent Ederson the wrong way from the penalty spot in extra-time to send Los Blancos to the final in an instant classic.
Oh, and if you fancy hearing more of Peter Drury and his wonderful lines on commentary, then check out his reaction to Rodrygo's 91st minute equaliser below. "They prayed for miracles and miracles have arrived. Real Madrid, the team of dreams!"
It really was Bernabeu bedlam.
And after producing comebacks against Paris Saint-Germain and Chelsea in previous rounds of the competition, Los Blancos will be hoping to cap off one of the most remarkable Champions League campaigns against Jurgen Klopp's Liverpool later this month.
The 54-year-old is responsible for some of the most iconic pieces of commentary in football history. Remember this?
For me, Drury is definitely one of the best commentators in the business. Do you agree?
Let us know in the comments.