Pep Guardiola pays Newcastle the ultimate compliment, says they're the best team in the league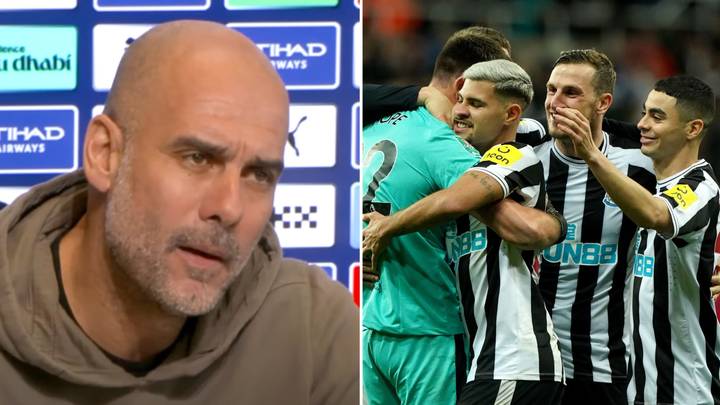 Manchester City manager Pep Guardiola has named Newcastle as "the best team in the league for many, many things" ahead of their upcoming Premier League clash.
The defending Premier League champions, who currently sit five points behind league leaders Arsenal, will face a tough test when they come up against Eddie Howe's side on Saturday.
And in his pre-match press conference ahead of tomorrow's game at the Etihad, a very complimentary Guardiola was full of praise for their opponents.
In fact, he insisted the Magpies are up there when it comes to City's toughest opponents.
When speaking about Newcastle in the press conference, Guardiola said: "Incredible what happened last season and this season they are taking a step forward so it looks like they have came to stay. What I have seen lately is what they have done all season.
"It is one of the toughest opponents we have until the end of the season for the quality, they do everything brilliant.
"The threats, transitions, set pieces - best team in the league for many, many things. That is why they are there for a long, long time this season."
Newcastle will be looking to bounce back on Saturday after a disappointing 2-0 defeat in the Carabao Cup final, where goals from Casemiro and Marcus Rashford handed Manchester United their first piece of silverware since 2017.
Back in November, a couple of months after they played out a thrilling 3-3 draw at St James' Park, City boss Guardiola was in awe of Newcastle's progress under Howe.
"They have incredible physicality to the way they play and they are playing one game a week," he said. "They are not playing in Europe and when this happens that's a big advantage when you arrive in the last months with energy. They have incredible energy and imagine how they are after one week.
"They have a good manager, top class players, they have experienced ones, physicality in the middle, box to box transitions, the way they make the intensity without the ball is so impressive, the press high and they go with real rhythm and I imagine they are going to stay there for a long time."
Pep: "Did you enjoy?" 👀
Pat: "𝘖𝘩 𝘐 𝘭𝘰𝘷𝘦𝘥 𝘪𝘵!" 😁

Pep: "That's enough..." 😅

Pep Guardiola reacts to a thrilling 3-3 draw against Newcastle ⬇️pic.twitter.com/SBBRD4fc4R

— Sky Sports News (@SkySportsNews) August 21, 2022
Thoughts on Guardiola's recent comments about Newcastle?
Let us know in the comments.