Olivier Giroud is the most underrated player of his generation, France wouldn't be the same without him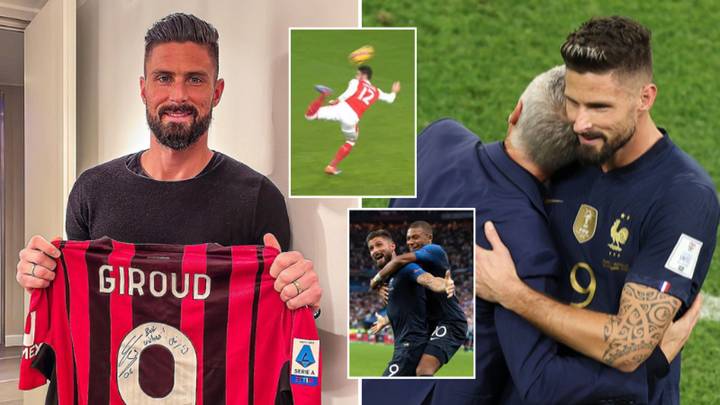 On Tuesday night, at the Al Janoub Stadium in Qatar, the ever-dependable Olivier Giroud equalled Thierry Henry as France's all-time top goalscorer after scoring a brace against Australia. It was his 51st goal in 114 games for Les Bleus.
It feels almost wrong to be typing this but, is Olivier Giroud the most underappreciated player in recent memory? After all, his record for club and country is outstanding yet, somehow, his brilliance is often overshadowed by others, especially at international level [yes I'm looking at you, Kylian].
The 36-year-old was certainly a late bloomer. He never made an appearance at youth level for France and in 2011, he picked up his first senior cap at 25. It happened just months before his big break at Arsenal after spells at Grenoble, Tours and Montpellier.
But the last 11 years have been nothing short of remarkable for Giroud, who played a crucial role at AC Milan last season in their historic title-winning campaign. In fact, the experienced forward has already netted nine times for Stefano Poli's side this season.
The former Chelsea man has continued to prove people wrong throughout his career and again, fans expressed their concern for France's World Cup hopes after Karim Benzema was ruled out of the tournament through injury, just days before their opener against Australia.
In fact, manager Didier Deschamps backed Giroud with a dig at his critics. "The French didn't love him much, but now everyone adores him, even those who criticised him and I can see a few in this room," he said with a smile.
"He's been part of this group for a long time, I consider him a useful striker for his style of play, he is important also when he doesn't score."
But as Giroud has done time and time over the years, the former Arsenal forward delivered on the biggest stage.
He doubled France's lead after the half hour mark with a cool finish and with 72 minutes played, he put the icing on top of the cake to make it 4-1 – all while Kylian Mbappe broke into France's top 10 highest goal scorers of all time, just five years on my from his international debut.
Giroud was then replaced late on, meaning he will have to wait to break Thierry Henry's 51-goal record.
"Olivier Giroud did what he does best, he scored goals. You have to manage a lot of things as a coach," Deschamps said after the full-time whistle.
"We have another match in four days and we'd already scored four goals, so sometimes it's good to give someone else a chance and give him a rest.
"You tend to talk about records a lot, he tends to focus on what he does on the pitch. He was very effective tonight, which is great for him, he's useful with the way he links up with the other attackers in our team."
Do you think Giroud is the most underrated striker of his generation? If not, who is?
Let us know in the comments.