One France fan has picked Marcus Rashford ahead of all other players at the World Cup, as the one player he'd pick in his side's starting XI.
So far France have already beaten expectation at the World Cup, well maybe not expectation but they've at least beaten a tournament curse.
Since 2002 only Brazil had got out of the group stages of the competition as defending champions, with France themselves kicking it off in Japan and South Korea when they failed to score a goal in three games.
There might have been some raised eyebrows when they went 1-0 down to Australia but they went on to win that game 4-1, with Olivier Giroud becoming the country's joint top men's goalscorer, alongside Thierry Henry.
That win was followed up by a 2-1 victory against Denmark, a side that had beaten them twice earlier this year, in the UEFA Nations League.
However, despite all that, one France has revealed that England forward Rashford is the one man he'd pick for his own country's team.
Asked by a talkSPORT reporter who he'd pick from any nation in the World Cup, the fan explained that the Manchester United man's ability in the 18 yard box was the reason for his selection.
It's quite the selection, considering the incredible talent in Qatar, with the likes of Neymar, Cristiano Ronaldo and Lionel Messi all there.
Deschamps is missing his first choice midfielders at the tournament, with both Paul Pogba and N'Golo Kante injured, so the selection of Kevin De Bruyne would surely make sense.
Rashford wasn't even guaranteed to be in the middle east, having lost his place in Gareth Southgate's squad following the Euro 2020 final defeat, when he missed a penalty.
His form for United completely fell away in the past 18 months but he has had somewhat of a renaissance in the current campaign, under Erik ten Hag.
The 25-year-old has already bagged eight goals for the team, already beating his tally from last season, when he managed just five in all competitions.
He continued that form with a goal off the bench in the opening group game vs Iran, scoring less than a minute after being on the pitch, and was one of the few attacking players to impress for Southgate's side vs USA, again as a sub.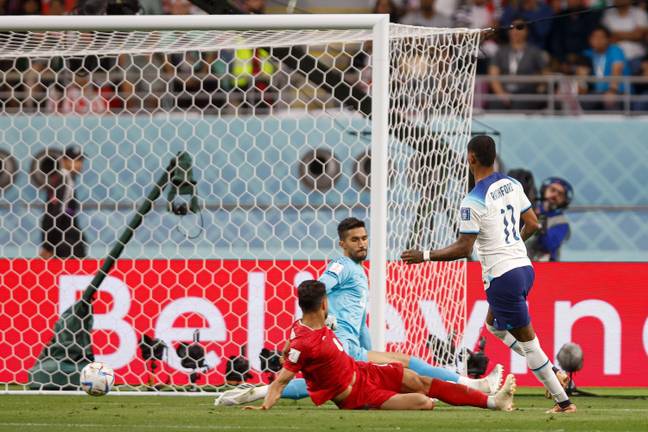 If players appearing in pre match press conferences is any guide to who will play the following game, Rashford will be making his first start of the tournament on Tuesday.
The United star was up in front of the press on Sunday, ahead of the game with neighbours Wales, which Robert Page's side must win 4-0 in order to progress.
He was asked about Ronaldo, who has just departed Old Trafford, and he was full of praise for his now former colleague, saying the 37-year-old was his 'idol,' and calling it an 'unbelievable experience' to play alongside the five time Ballon d'Or winner.