The 10 managers with the highest total transfer spend in history including Wenger, Guardiola and Conte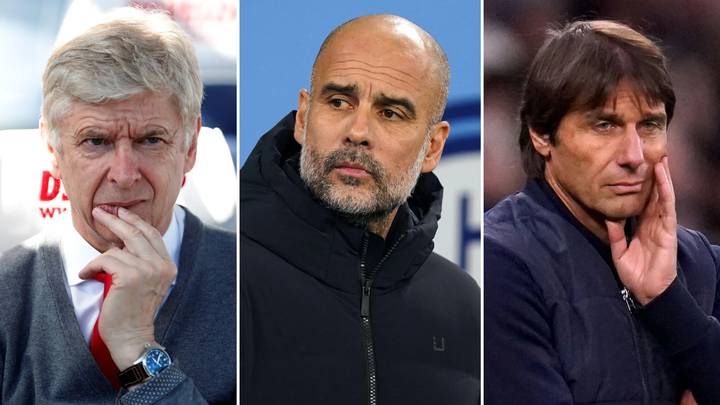 Whether we like it or not, money dominates modern football and it is increasingly difficult to win major honours without spending big.
It is almost always the teams with the biggest transfer budgets that compete for football's top prizes and managers must be prepared to splash the cash in order to be successful.
Some are certainly more willing to splurge in the transfer market than others.
Here, we take a look at the top 10 managers with the highest total transfer spend in history – with credit going to Planet Football for compiling the list.
10. Claudio Ranieri - €864.33m
Ranieri is perhaps a surprise name on the list, given the fact he managed to guide Leicester to the Premier League title on a shoestring budget in 2016.
But having managed 18 clubs over the course of his long career, including European heavyweights Chelsea and Juventus, Ranieri was bound to rack up a few transfers.
His biggest signings came while he was head coach at Monaco, when he signed Colombian duo Radamel Falcao and James Rodriguez for a combined total of €88m.
9. Ernesto Valverde – €866.83m
Another surprise name on the list, the vast majority of Valverde's spending unsurprisingly came during his three-year spell in charge of Barcelona.
While Valverde was manager, the Catalan club paid out a transfer fee of over €100m on three occasions to sign Ousmane Dembele, Philippe Coutinho and Antoine Griezmann, with only Dembele still at the club.
8. Antonio Conte – €967.1m
Conte has spent heavily wherever he's gone and has plenty of success, prior to joining Tottenham at least.
He's make significant signings at Juventus, Chelsea, Inter Milan and Tottenham, with his biggest buys over the years including Romelu Lukaku (€77m), Alvaro Morata (€66m) and Richarlison (€69.5m).
7. Arsene Wenger – €973.25m
While Wenger was known for nurturing young talent and spotting bargains in the transfer market, he also accumulated a high transfer spend because of his length of time as Arsenal manager.
Almost all of his biggest purchases came in his final few years as Gunners boss, with Pierre-Emerick Aubameyang (€63.75m) and Alexandre Lacazette (€53m) his biggest buys.
6. Diego Simeone – €1.04bn
While Simeone deserves credit for going toe-to-toe with Spanish giants Real Madrid and Barcelona over the years, it is not as if the Argentine hasn't had significant resources at his disposal at Atletico Madrid.
Portuguese star Joao Felix is the most expensive of his recruits, signing for €127m, although he is now on loan at Chelsea.
5. Massimiliano Allegri – €1.08bn
While he was an active manager in the transfer market at AC Milan, Allegri's spending went through the roof once he joined Juventus.
In his first spell in charge of the Turin club, he spent €90m on Gonzalo Higuain before Cristiano Ronaldo arrived in 2018 for €117m. It remains to be seen what resources he will have when the next transfer window opens, with questions hanging over the club's finances.
4. Manuel Pellegrini – €1.16bn
Any manager who has taken charge of Real Madrid and Manchester City in recent years is bound to have a high transfer spend – and Pellegrini is no exception.
While at Madrid he oversaw two all-time record signings, with Kaka (€67m) and Cristiano Ronaldo (€94m) joining in the space of a week, while he was also manager City when Kevin De Bruyne joined in a €76m move from Wolfsburg.
3. Carlo Ancelotti – €1.44bn
Ancelotti is one of the most decorated managers in history and has spent heavily at a number of clubs, including AC Milan, Real Madrid and Chelsea.
His most expensive signing remains Gareth Bale, who signed for Madrid from Totteham for €105m in 2013.
2. Pep Guardiola – €1.61bn
While he is undoubtedly one of the greatest managers in history, Guardiola has had money to spend at all three of the clubs he's managed – Barcelona, Bayern Munich and Manchester City.
Despite consistently spending, Guardiola's record fee for a single player remained the €69.5m he paid for Zlatan Ibrahimovic in 2009 until City paid a British-record £100m (€113m) to sign Jack Grealish in 2021.
1. Jose Mourinho – €1.71bn
It was always going to be Jose, wasn't it? The Special One has managed some of the biggest clubs in the world, including Chelsea, Manchester United and Real Madrid – and was always likely to be near the top of this list.
While he was effectively handed a blank cheque for signings at Chelsea, it was actually during his time at United when Mourinho made his three biggest signings – bringing Paul Pogba, Romelu Lukaku and Fred to the club for a combined total of more than €220m. Money well spent?