Man United snubbed in 'Global Club Rankings' behind six rival sides
Manchester United have dropped lower than six other Premier League teams in the world ranking of football clubs and don't even make the top 15.
It has not exactly been a vintage decade for United seeing as they haven't managed to win the league title in the 10 years since Sir Alex Ferguson left Old Trafford.
Last season was the third time in that spell they've not even finished inside the top five as Ralf Rangnick led them to a fifth place finish.
There is still plenty to be done at Old Trafford before they're regularly competing at the top of the table again, especially as they wait for a takeover to happen.
And that's part of the reason that they're also down in 16th place in the index of world football teams, with six of their domestic rivals above them.
Statisticians FiveThirtyEight have put together their end of season power rankings of the best teams from around the globe, with City unsurprisingly leading the pack.
Liverpool, Arsenal, Newcastle United, Aston Villa and even Brighton & Hove Albion are above United in the rankings.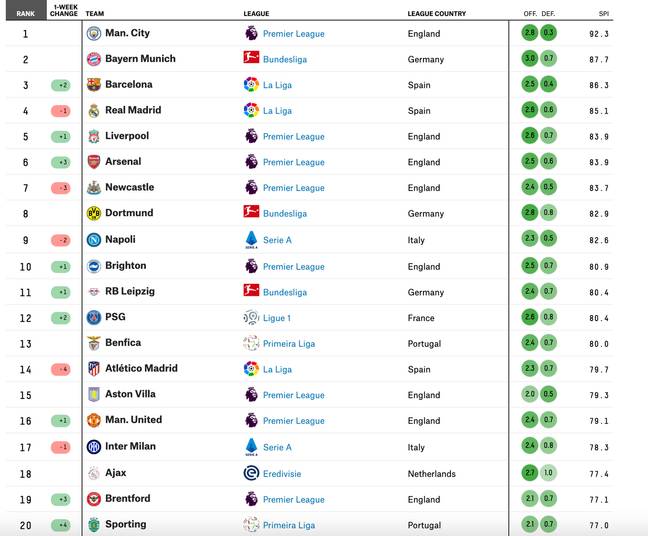 FiveThirtyEight use data from ESPN and OPTA to work out how each team would perform both offensively and defensively against an average side in the league on a neutral ground.
The result of that gives each team an SPI rating and that works out which teams would win, lose and draw to each other to work out the points.
As a result United are only ranked as the 16th best team in the world although earlier in the season they were actually out of the top 20.
Featured Image Credit: Alamy
Topics: Football, Premier League, Manchester United, Manchester City, Aston Villa, Brighton And Hove Albion, Chelsea, Liverpool, Newcastle United, Tottenham Hotspur, Arsenal