Ex Man Utd loanee Martin Dubravka picks who he wants to win the Carabao Cup after Newcastle return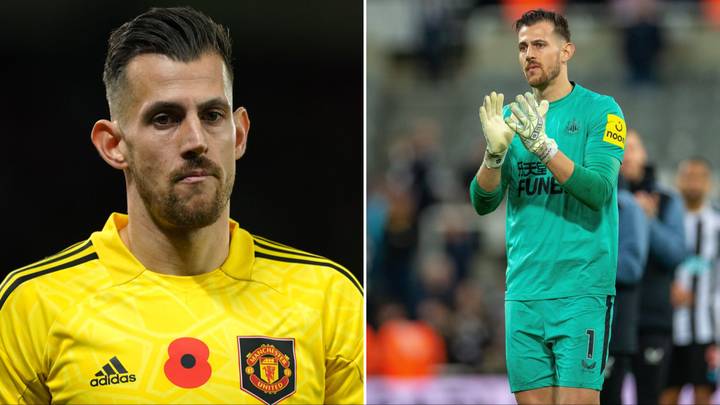 Martin Durbravka has revealed who he wants to see lifting the Carabao Cup come Sunday afternoon after playing for both Manchester United and Newcastle United this season.
In the summer, Dubravka joined United on loan from Newcastle before being recalled by the Magpies in January.
During his time at Old Trafford, he made two appearances, both coming in the Carabao Cup.
The 34-year-old now finds himself in a strange position after Newcastle's brilliant run to the final, where they will take on the Red Devils.
Despite Nick Pope's red card, Dubravka will not be able to play in the final as he is cup-tied due to his outings with United.
However, if United were to win, Dubravka will get a winner's medal but if Newcastle win, he won't.
When asked who he wants to lift the cup on Sunday, Dubravka told Chronicle Live: "I played two games for Manchester United, so I knew that I can't play in the final or be there for the players. It's a very strange situation for me as well, but that sometimes happens and hopefully, it's up to someone else to show they can play in front of 90,000 people.
"It will be very difficult to watch this game. I've been asked about it a lot, but of course, I want Newcastle to win because I've spent so many years here and I'm very grateful for the chance the club gave me in English football. You don't need to ask me that."
Former Liverpool goalkeeper Loris Karius is in line to make his first start for the club at Wembley.
On the situation, Dubravka said: "This could be a movie.
"It is a very strange situation. I can't play for obvious reasons. Nick got the red card. So now it's up to us to prepare the others mentally because that is the most difficult thing, to be mentally ready for it."
Dubravka also added that he has inside knowledge of Erik ten Hag's tactics.
He continued: "They probably know that I am here and I know some kind of tactics and information. If they stick with the plan (that I know), who knows? It is hard to say."
Who do you think will win the Carabao Cup? Let us know in the comments.