'Frightening' Erling Haaland tipped to be Premier League's best-ever player
Manchester City superstar Erling Haaland has been told he could be the best player the Premier League has ever seen.
Since his summer move from Borussia Dortmund, Haaland has hit the ground running straight away and has looked unstoppable in front of goal.
So far, he has scored 14 goals in eight Premier League matches, whilst also scoring five in three Champions League appearances.
After his hat trick against Manchester United last time out, he has become the first player to score a hat trick in three consecutive home games.
Bournemouth remain the only team to stop Haaland from finding the back of the net this season.
Former England goalkeeper Paul Robinson has described Haaland as 'frightening' and has claimed that the Norway star could become the best player English football has ever seen.
He told BetfredTV: "I think he may well be the best we've seen in the Premier League.
"You look at the greats we've had over the years, including the fact that the Premier League has had potentially the best players in the world in recent times, and Erling is certainly putting in a case to be well up there.
"Longevity is the only thing that's missing. His stats are up there, his numbers are up there and his playing style is up there. If he does this over a long period of time then it's going to be frightening."
After his brace against FC Copenhagen in the midweek Champions League game, City boss Pep Guardiola heaped praise on his frontman.
He said: "When he arrived we never spoke about how many goals. It's just the deflection and he was there. Why does the ball go to where he is? This is an incredible instinct. What can I teach him about being here or there.
"He has an incredible sense of strikers that the ball is going to finish. If he goes one second before, the ball won't be there but he has this incredible talent."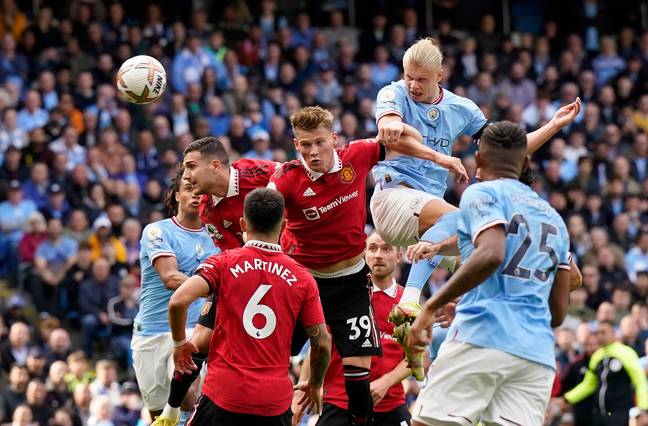 Guardiola added: "Deflection? Cross? He is there. That is why I was surprised. How can I as a manager teach him? It's impossible but it's instinct and natural. He did it in Norway, Austria, and Germany — you don't have to say anything. He just moves like he smells it.
"Thank you so much for choosing us and to Khaldoon [Al Mubarak], Ferran [Soriano], Txiki [Begiristain] — all the people involved to bring here because we are fortunate to have him here."