Lucas Leiva announces retirement from football due to heart condition in emotional press conference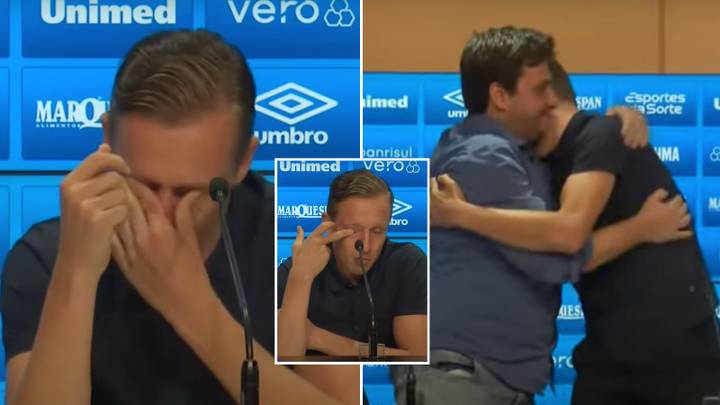 In an emotional press conference, former Liverpool midfielder Lucas Leiva has announced his retirement from football after he was diagnosed with a heart condition.
The 36-year-old, who returned to boyhood club Gremio last year after a five-year spell in Italy with Lazio, had temporarily stepped away from the game after a heart issue was detected during pre-season testing in December.
After being advised to step away from high-performance activities by medical professionals because of the serious health risks, Leiva decided it was time to retire from the beautiful game.
Speaking at Friday's press conference, he said: "It's been a difficult period. I think this is the first time I've cried over this case."
He added: "But I can only thank you. I'm ending where I'd like, not the way I'd like. I'm sure a new cycle will begin. I had a lot of hope that it could reverse, but it was not the case. My health comes first."
Taking to social media on Friday, the Brazilian also said: "The day has come to say goodbye to the field. I confess that it came from greater forces, but I look back and can only be thankful for the career I built."
He added: "In 2007 I transferred to the giant [that is] Liverpool, which was part of my life for 10 years. It is with great pride that I can say that today Liverpool is my home. I'm proud to be an English citizen and along with my family; I'm Scouser!"
Leiva made 346 appearances for Liverpool during a memorable 10-year stay with the Premier League club. He earned a League Cup winners medal in 2012 and helped the Reds in their journey to the Europa League final in 2016.
In the press conference on Friday, doctor Marcio Dornelles told the media that Leiva's diagnosis was scarring in the myocardium.
Gremio president Alberto Guerra went on to label the former Brazil international as a "great leader" who is respected by many.
"I had prepared a beautiful speech, but I don't know if I'll be able to say it all," Guerra said.
"I wanted to congratulate you on a successful career. I'm very happy that you're going to go on with a normal life. I want to say on behalf of all the Gremistas that few have represented us like you.
"That's why so many people are moved by this moment. You are a great leader in the locker room that we all learned to respect."