Kevin De Bruyne goes off injured in his second Champions League final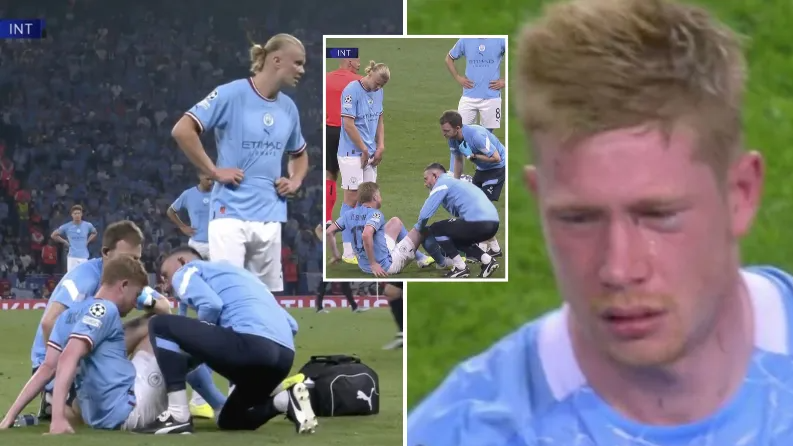 Kevin De Bruyne was dealt a cruel blow in the Champions League final as he had to limp off in the first half against Inter Milan.
Two years ago De Bruyne lasted an hour as City attempted and ultimately to win their first ever Champions League title, against Premier League rivals Chelsea.
On Saturday night the Belgian would have been hoping to have a chance to take his revenge on the footballing gods and finally lead City to the title they most desperately crave.
However the gods are not kind to some and after just 36 minutes of the game the 31-year-old had to be replaced by Phil Foden.
It was on the half hour mark that the midfielder first went down with a problem and received some treatment from City's physios.
He was initially able to continue as Pep Guardiola readied Foden to come on just in case and minutes later the Englishman was needed, with De Bruyne looking emotional as he headed off, which you can see in the video below.
De Bruyne has as usual been extremely important throughout the campaign for Guardiola's team, especially when it's come to UEFA's premier competition.
He scored an all important equaliser in the semi-final first leg against Real Madrid when the English side were actually on the back foot.
Some later angles suggested that perhaps the goal shouldn't have been allowed, with the ball seemingly going out of play in the build up, but City never looked back after the goal.
Having Foden to bring on is hardly the worst replacement, no matter how good De Bruyne is, with the 23-year-old having been very important to the team previously.
The Liverpool legend pointed out that Foden would be a guaranteed starter in virtually any other team in Europe but had lost his place in City's XI due to illness and injury in the second part of the campaign.