QUIZ: Can you name Inter Milan starting XI from famous AC Milan clash in 2005?
Most football fans will remember the 2004/05 Champions League campaign due to Liverpool's infamous comeback from being 3-0 down at half-time in the final against AC Milan. However, this wasn't the only chaotic game in the competition for the Rossoneri.
On April 12, Carlo Ancelotti's side lined up to face their fierce rivals Inter Milan at the San Siro for the second leg of the Champions League quarter final. Having already secured a two goal lead in the first fixture.
With the likes of Paolo Maldini, Cafu, Alessandro Nesta, Andrea Pirlo, Kaka, Clarence Seedorf, Gennaro Gattuso, Andriy Shevchenko and Hernan Crespo all at their disposal, the fixture went as you may have predicted with Shevchenko opening the scoring within 30-minutes of action.
With the score now 3-0 on aggregate - as well as a precious away goal now in the bag - the fixture looked all but done. Until chaos erupted in the 73rd minute.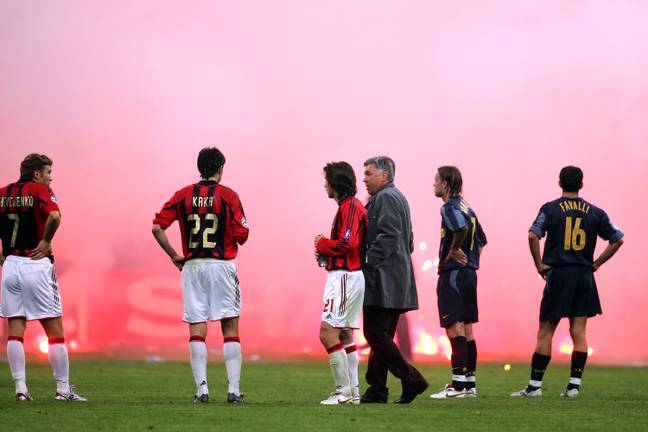 Milan goalkeeper Dida was hit by a flare from the stands and would go on to require treatment for first degree burns afterwards. The Inter players pleaded with their fans to stop the madness but eventually referee Markus Merk suspended the game, awarding Milan a 3-0 win in the process.
In this quiz we are looking for you to name the players who started the fixture for Inter all those years ago. We'll give you x minutes to complete this one and there is a HINT button to assist you if you're struggling to answer a question.