Erling Haaland reveals his 'magic potion' in hilarious social media post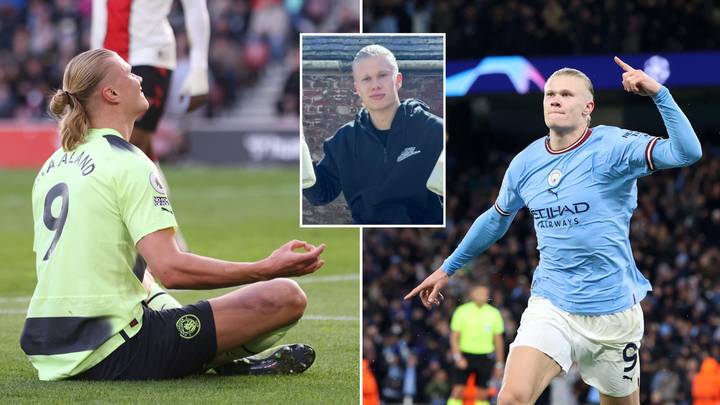 Erling Haaland has appeared to reveal the secret behind his insane goal-scoring ways for Manchester City, having shared a hilarious post on social media.
The 22-year-old is enjoying an ultra-prolific campaign this season, scoring a staggering 45 goals in all competitions.
He scored a stunning brace in his last Premier League match and bagged a goal in his side's comfortable win over Bayern Munich in the Champions League.
Haaland is the leading scorer in both competitions, with 30 goals in England's top flight and a further 11 goals in the Champions League.
What's the reason behind his form? It seems to be milk. Yes, that's right.
The Norwegian phenom uploaded a series of pictures of himself holding what appears to be a bottle of milk, accompanied with the caption: "Me and my magic potion."
So, there you have it - milk is what's powering Haaland this season!
He remains on course to break the Premier League record for the amount of goals scored in a single season.
As mentioned, he currently has 30 league goals to his name and is just four goals away from tying Andy Cole and Alan Shearer, who both scored 34 goals in the 93/94 and 94/95 seasons respectively.
Speaking after Man City's victory at St Mary's, he said: "In terms of the thesis of scoring goals. He's quite similar in terms of Cristiano but Messi is the more complete player. Messi can play wherever while Cristano and Erling are machines. Erling knows those two guys dominated over two decades not just one or two seasons, winning titles and doing everything.
"Football is a better place for Cristano and Messi for what they have done for our business, the traction of these two guys competing at the big clubs."
Guardiola added: "Erling is arriving in the toughest league in the world. I can talk as I've been in other leagues and doing what he has done is remarkable.
"Erling is here for these types of games, it was a little bit hard but he has the ability from an incredible assist from Kevin [De Bruyne] to break the game."
How many goals will Haaland finish on this season? Let us know.