Arsenal have most valuable squad in world football, overtaking Man City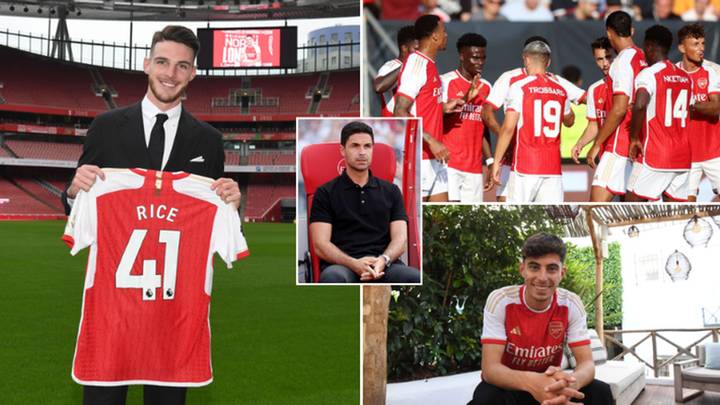 Arsenal may have lost out on the Premier League title, but they are currently sitting top of a very different table.
Pep Guardiola's side pipped Mikel Arteta's team to the Premier League title last season, capitalising on their dip in form.
But despite falling short on the pitch, the Gunners have surpassed their newfound rivals in terms of the value of their squad, which is now €1.21bn, according to Transfermarkt.
In total, Arsenal have splashed over £200 million already this summer which has seen their squad value skyrocket.
Manchester City are their closest competitors, with a total squad value of €1.19bn, with Paris Saint-Germain the only other member of the billionaires club, amassing €1.03bn.
Real Madrid make fourth-place on the list, raking up €991.00m, with Bayern Munich rounding off the top five.
Following them are Chelsea after spending over £600 million on new recruits since Todd Boehly's arrival.
Whilst Barcelona, Liverpool, Manchester United and Tottenham make up the top 10, with Tottenham's squad worth nearly €500m less than their north London rivals Arsenal.
Former Arsenal manager Arsene Wenger is delighted with his old side's business this summer and reckons they'll win the league next season.
On the club's recruits this summer, he told Eurosport: "I think it is a good investment.
"Overall, personally I think they have made good buys as they are players who are now mature, 23, 24, but still young so can stay together for a few years.
"They will be under more pressure after last year, but they have learned a lot and they can show they can deal with that pressure now," the Frenchman added.
Asked for his prediction for the Premier League title next season, he replied: "I believe we will win the championship; it is as simple as that. I have less doubts for Arsenal than the cycling today."