Arsenal supporters have come up with a new chant for Martin Odegaard, fans are loving it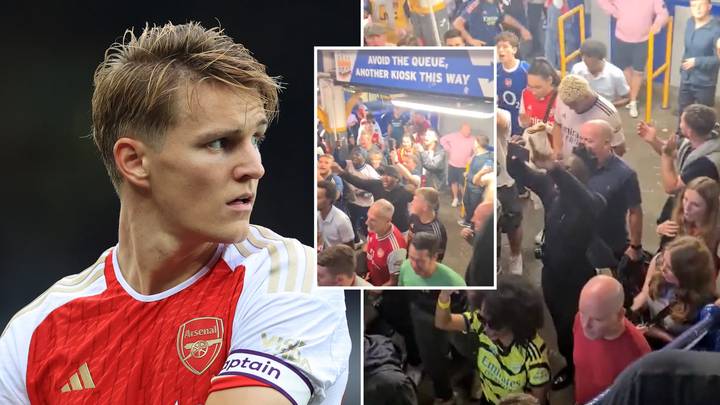 Arsenal supporters have come up with a new chant for captain Martin Odegaard and fans are loving it.
The Gunners continued their unbeaten start to the new season with a 1-0 win against Everton at Goodison Park, finally ending a wretched run at the ground after Leandro Trossard came off the bench to score the only goal of the game.
Arsenal fans were understandably buzzing with the victory as they left the away end and a video has surfaced of a new song for their skipper.
The chant appears to be the tune of the darts anthem 'Chase the Sun' by Planet Funk, with the lyrics "Been dreaming all day, Of our number 8, Martin Odegaard - Oi Oi Oi, When he's on the ball, He's f****** magical, Martin Odegaard - Oi Oi Oi", du du du du du du du du du du du du du du du, Oi Oi Oi".
Arsenal fans had the new 'Tequila' track about defender William Saliba popping off last year and are now buzzing over the latest hit.
One supporter commented: "About time Odegaard had a proper chant in the stands."
Another wrote: "Loving the new Odegaard chant."
A third chimed in: "Great new chant for Odegaard, hope it takes off."
A fourth said: "Finally an Odegaard chant."
A fifth had the same view, posting: "Martin Odegard's new chant is an all timer. Captain Fantastic.
And a sixth and final user added: "There's not much more deserved than Martin Odegaard finally getting a chant."
After the win at Goodison moved Arsenal up to fourth, two points behind leaders Manchester City, Odegaard talked up the squad depth.
"I think it showed the depth in the squad now," he told reporters, as per Planet Sport.
"We have so many quality players, the players on the bench can come on and change the game if we need it," said the Norway international.
"The competition for places is huge and I think that is a great thing for us and helps a lot.
"You see in training every day the quality we have so everyone has to be on their best every day in training and that's a good thing and will help us improve as a team as well."
SPORTbible are on WhatsApp! We've launched a dedicated news channel to send you the latest news, features and plenty more directly on WhatsApp and all you need to do to sign up is click through to our one-way broadcast channel here for 'SPORTbible News' to appear in the 'Updates' tab on your WhatsApp.