Portugal And Cristiano Ronaldo Could Be Wearing The Worst Kit At This Year's World Cup
Three potential designs for Portugal's home kit at the 2022 World Cup have leaked online and they could be the worst at the whole tournament.
Fernando Santos' side will be hoping to win their second major honour out in Qatar next winter after winning Euro 2016 six years ago.
It's likely to be the final World Cup of Cristiano Ronaldo's legendary career and you like to think that'd give Nike extra motivation when it comes to the shirt they'll be wearing.
Well, you'd be wrong. The ever-reliable Footy Headlines have claimed Portugal will be wearing a 'half-and-half design in red and green' to celebrate their 25 year relationship with the sportswear giant.
They're unsure how the pattern will run, but have shared a few concepts of what they're expecting which you can check out below.
Certainly eye-catching, aren't they? But not in the best way.
Fans online have reacted and they thought the two-colour split was a joke to begin with.
One commented: "What on earth are these? Horrible!"
Another said: "Guess I'm not buying a Portugal shirt this year."
A third tweeted: "Wtf is this? Is this a joke?"
While someone added: "Hot garbage coming up."
You get the feeling Ronaldo won't mind what he's wearing as long as he's banging in goals for fun.
William Carvalho got them off to a perfect start inside the opening quarter of an hour, before Ronaldo doubled their lead in the 35th minute. Club teammate Bruno Fernandes put it on a plate for the 37-year-old who made no mistake.
Ronaldo would add a third and his second of the game four minutes later, with cameras capturing his mother in tears up in the stands.
Joao Cancelo wrapped up all three points after the break.
Santos paid tribute to captain Ronaldo in his post-match interview and stressed he always turns up in the big moments.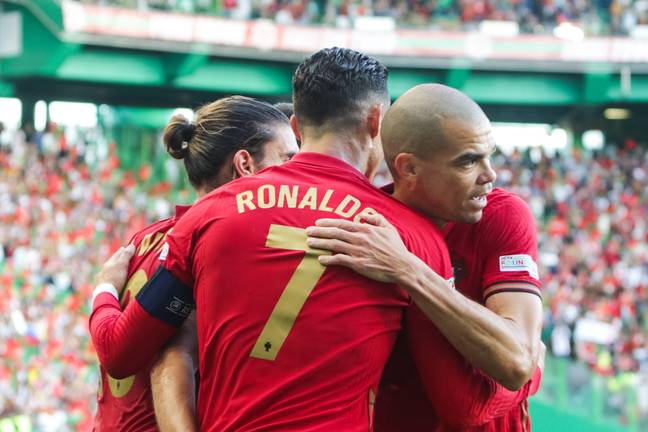 "The captain is the best in the world," he said per Mais Futebol.
"He arrives. When you say he's the best in the world… how many more words are needed? I've said this I don't know how many times.
"These exhibits are nothing out of the ordinary. Support from fans? He's captain of the team, he's the ultimate example."
Portugal return to action on Thursday against the Czech Republic.