Man Utd fans devastated after club release update on Christian Eriksen's ankle injury
It's official. Manchester United midfielder Christian Eriksen will be out 'until April or early May' with an ankle injury sustained in their FA Cup win over Reading.
Erik ten Hag's side booked their place in the next round of the competition on Saturday night as goals from Casemiro [2] and Fred sealed what was a relatively straightforward win at Old Trafford.
But the victory was marred by an incident involving Eriksen and Andy Carroll, who hacked down the Danish midfielder on the 57-minute mark.
Eriksen was eventually replaced by Fred and after the full-time whistle, he was spotted leaving Old Trafford on crutches.
The 30-year-old has since had a scan on his ankle, with United confirming on Tuesday that he will be out until at least late April with the ankle injury.
In a statement on their official website, they wrote: "Manchester United midfielder Christian Eriksen is expected to be out of action for an extended period because of an ankle injury sustained in our Emirates FA Cup victory over Reading on Saturday.
"While investigations are continuing, initial assessments indicate that Eriksen is likely to be out until late April or early May.
"The 30-year-old's absence will be a big disappointment to manager Erik ten Hag and fans, given the consistency of his performances throughout the season so far, making 31 appearances since arriving at Old Trafford.
"However, there is hope that Christian can return in time to play a role in the final stages of the campaign.
"We all wish Christian the best of luck for a speedy recovery."
Here's how fans reacted to the news on social media.
One said: "Eriksen OUT For 3 months! And this board are doing nothing. Disgrace," while another commented: "Eriksen out until April is an absolute DISASTER. Ten Hag needs a CM & he needs one quickly."
A third wrote: "Christian Eriksen being out for most of the remainder of the season is absolutely awful news. Changes the picture completely."
A fourth said: "I really do worry, Eriksen could play in all segments of our 2-3-5/3-2-5. Was a major factor in helping us break down teams in games where we had control. None of the other options really have that to the standard of him. System will have to be adapted again."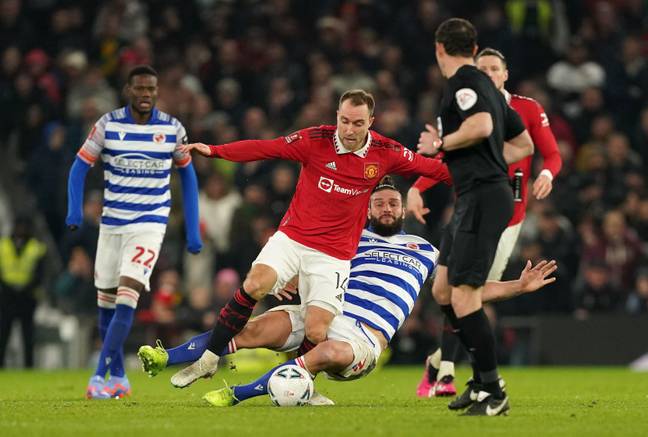 Thoughts on the Eriksen news? Do you think United need to find a replacement on deadline day?
Let us know in the comments.