Jamie Carragher rips into Gary Neville after comments made about Antonio Conte's Spurs press conference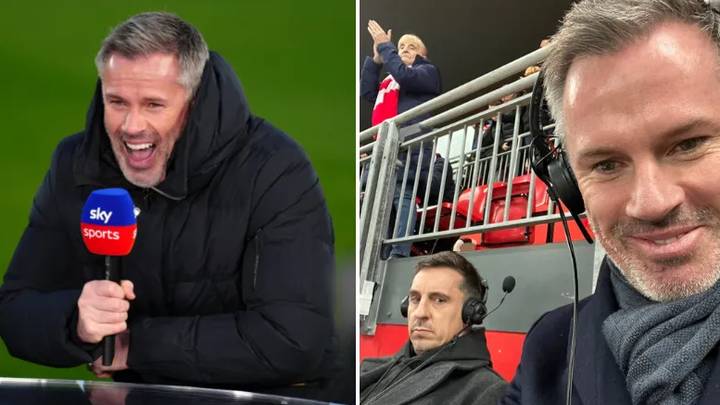 Jamie Carragher and Gary Neville have been at each others throats once again, following Antonio Conte's decision to brutally criticise his players on Saturday.
The love-hate relationship between the Sky Sports duo has brought some unforgetable moments over the years, with the former Premier League rivals enjoying a joke at one anothers expense.
The dialogue began when Neville tweeted his opinion on the Antonio Conte situation, after the Italian manager brutally criticised his players following their 3-3 draw with Southampton on Saturday afternoon.
Neville weighed in by saying: "Many saying Conte should go this morning. I'd keep him right where he is and make him do his job."
Carragher quickly reminded Neville - a co-owner of League Two side Salford City - of his decision to sack former manager Richie Wellens following similar comments back in 2021.
The former Liverpool defender replied: "Why didn't you do that with Richie Welllens after he criticised Salford & the players in public!!"
Neville justified his actions by stating: "Errr Conte and spurs can finish top 4. We couldn't!"
Carragher hit back by correcting Neville, and reminding the former Manchester United man that his side had won a cup final just a week earlier: "Yes you could, and he had won a cup final the week before."
Neville responds: "Conte is in 4th place we were in free fall 6 points off play offs in 9th with largest budget in league. I do know I was watching."
Carragher continued on the wind-up by likening Neville to former Manchester United executive vice-chairman, Ed Woodward: "And you used to criticise Ed Woodward."
Neville defended himself by saying: "I did! Ran salford for 8 seasons! 4 promotions and one Wembley win! Not a bad record."
Carragher continues to goad his co-presenter: So why have you been asked to step down this season."
Neville responds: Three seasons only one trophy. We have standards. 10 years without a league United!"
Carragher had his final say by adding: "Battering Man Utd to win an argument with me about Salford & Ed Woodward" to which Neville simply responded "You don't make sense."
That is where the latest episode of Carragher vs Neville draws to a close, but knowing the history of the two, don't be surprised to see them back at it again in the not too distant future.