Lionel Messi uploads video explaining trip to Saudi Arabia after being suspended by PSG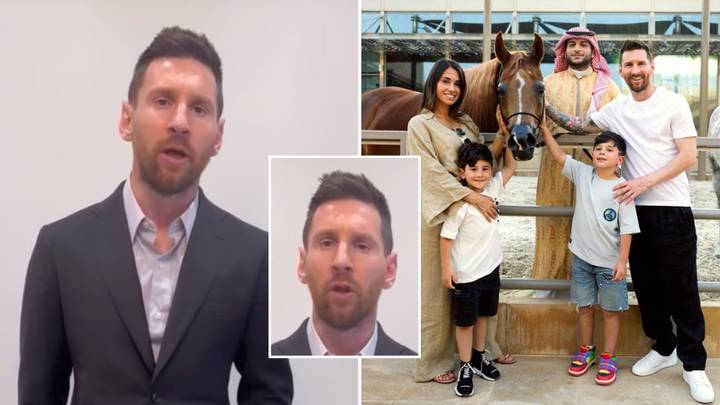 Lionel Messi has apologised to his teammates and Paris Saint-Germain for making an unauthorised trip to Saudi Arabia.
The 35-year-old Argentine has been suspended by PSG for two weeks after going on a personal promotional visit to the Middle East without permission.
It was initially reported that Messi, who serves as a tourism ambassador for Saudi Arabia, had asked the Ligue 1 club for permission to be able to travel to the country having twice postponed it because of team defeats.
But days after being pictured with his family in Riyadh, the former Barcelona forward was handed a suspension that will rule him out of league games against Troyes and Ajaccio.
As translated by Fabrizio Romano, he said: "I thought we were going to have a day off after the game as always. I had this trip organised and I couldn't cancel it. I had already canceled it before."
Messi added: "I apologise to my teammates and I'm waiting for what the club wants to do with me".
Messi is contractually obligated to visit the Gulf State as part of his role as a Saudi tourism ambassador. This week's trip to Saudi Arabia, meanwhile, was his third trip to the country.
"I am happy to welcome Saudi Tourism Ambassador Lionel Messi and his family on his second vacation in Saudi Arabia," Minister of Tourism Ahmed Al-Khateeb said.
"We are happy to share our authentic Saudi welcome with you all,"
A series of pictures showing Messi and his family in Saudi were published on social media, while Messi posted about the country prior to his scheduled flight.
"Who thought Saudi Arabia has so much green?" he wrote on Instagram. I love to explore its unexpected wonders whenever I can."
In regards to his future, Messi has a huge offer on the table from Saudi Pro League side Al Hilal ahead of the summer transfer window, according to reports.
That's according to Fabrizio Romano, who claims Al Hilal have sent in an official bid worth £350 million (A$660m) a year.
If accepted it would make Messi the highest-paid athlete in the world by some distance, with Cristiano Ronaldo currently holding that mantle.
Ronaldo is said to earn makes £175m (A$330m) annually.