Barcelona are 'prepared to take FOUR of their OWN players to court' if they don't agree to scrap contract renewals
Barcelona are reportedly prepared to take four of their own players to court if they do not agree to scrap the contract renewals they signed two years ago.
Frenkie de Jong, Gerard Pique, Clement Lenglet and Marc-Andre ter Stegen all signed new-look contracts in 2020 that saw them take wage cuts in order to help alleviate Barcelona's financial struggles at the time.
Under the terms of the agreed deals, the four players would then be paid back their deferred wages in the latter years of their contracts.
Pique signed a new contract until 2024 and Ter Stegen renewed until 2025, while De Jong and Lenglet both penned new deals until 2026.
A week after the new contracts were signed, former Barcelona president Josep Maria Bartomeu stepped down along with the rest of the club's board.
While the contract renewals were presented as an economical move by Barcelona, Spanish publication SPORT claim they could end up costing the Catalan club an extra €311m (£263m) in salary payments in the long-term.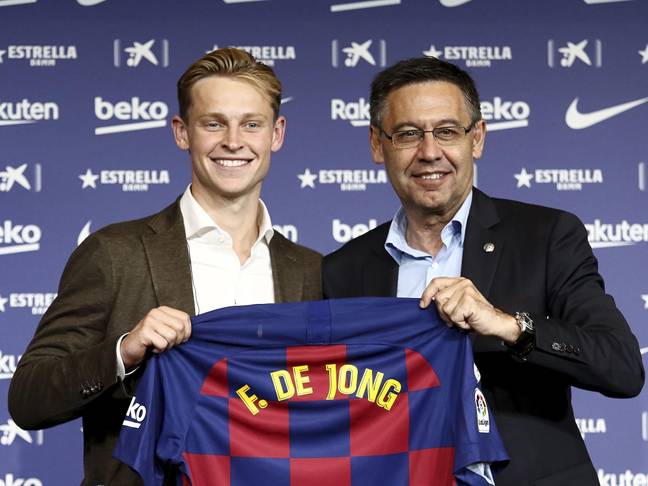 Barcelona's current board, led by president Joan Laporta, now claim to have found evidence of criminal actions on behalf of the parties who signed the contract renewals.
SPORT claim Barcelona have been dealing with the matter for three months and are attempting to convince all four players to renounce their increase in wages, with the club continuing to struggle to balance the books.
It is claimed that if the players do not agree to the salary reductions, Barcelona are prepared "to take the case to the Prosecutor's Office".
De Jong is reportedly owed around €18m (£15.2m) in wages by Barcelona, which he deferred during the 2020-21 and 2021-22 seasons.
Manchester United have had a bid accepted for the midfielder but he has so far refused to agree to the move, with his deferred wages thought to be a major factor in his reluctance to leave Barcelona this summer.