Australia have goal ruled out for offside in absolutely baffling VAR call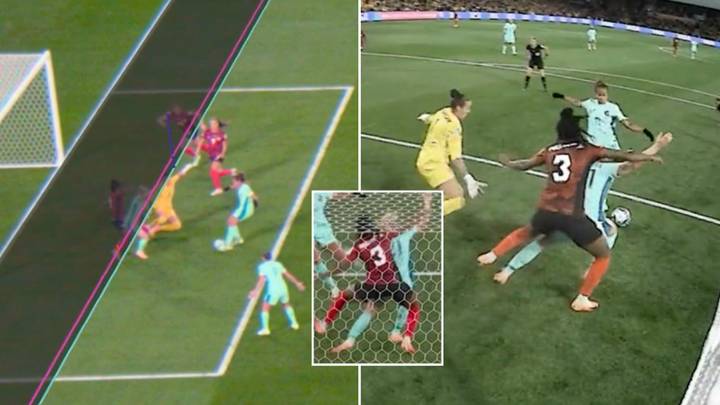 Australia have been denied a clear goal in the Women's World Cup, courtesy of our good friends in the VAR booth.
The referee chalked the goal off for an apparent offside, despite the Matildas player being IN FRONT of the defender.
Fans have been left fuming too, taking to social media to slam the video assistant referee and the rather confusing interpretation of the rulebook.
When Mary Fowler bundled the ball into the back of the net following some rather scrappy build-up play, the Matildas looked like they'd extended their lead over Canada to 2-0.
But when the referee was called over to the pitch-side screen to watch a replay, every Aussie fan collectively rolled their eyes.
A potential foul in the lead-up would be remotely understandable, but an offside? Surely not.
Well, that's what the officials saw with Aussie right back Ellie Carpenter deemed to have been in an offside position – despite being in front of the Canadian defender.
Not just that, though, as there seemed like there was another Canadian defender who was also playing her onside too.
However, not in the ref's eyes.
After some deliberation, the referee eventually ruled the goal out – much to the amazement of everyone inside Melbourne's Rectangular Stadium as well as those watching from home.
When footage of the incident made its way onto social media, fans didn't hold back in their assessment.
That might be the worst interpretation and implementation of the offside rule I've ever seen in my 30 years of watching the game. Even using their lines it wasn't offside. How has that call been made?

— FootballFocusAU (@FootballFocusAU) July 31, 2023
WHICH PART OF THAT WAS FCUKIN OFFSIDE

— ALM (@TheRealALM) July 31, 2023
This is the issue most have with the modern game.

Carpenter cleaned up the defender in the build up which was a foul. You disallow the goal for that most would probably say ok, fair enough.

But not for her flipping stud being offside.

🤷🏼‍♂️#Matildas #FIFAWWC

— James Dodd (@JamesDodd89) July 31, 2023
But by the rule book, Carpenter is - in fact - offside it seems.
Popular Twitter page Beyond 90 said: "As Sheridan is in front of her teammates, Carpenter has to be in line with / behind two defenders *OR* out of play.
"VAR placed her beyond Gilles, and since she was between Buchanan and the ball when it was last touched, she's in play & offside!"
Re disallowed goal: out of control Carpenter wipes out defender who played ball (foul for mine). Ellie then illegally uses backside (she sticks it out - backs away from ball) to provide space for Fowler. The actual "Offside" decision ridiculous. Right to disallow but #arseabout

— Brenton Speed (@BrentonSpeed) July 31, 2023
Besides, the Matildas didn't let the bizarre decision dampen their spirits and they responded in the best way possible.
Just a few minutes later, Hayley Raso bagged her second goal of the game to extend Australia's lead to 2-0.
That said, we still can't stop thinking about this offside call.