Mikel Arteta sends clear message to Stan Kroenke over Arsenal's transfer stance
Mikel Arteta has made his feelings clear regarding Arsenal's transfer needs this summer.
The north London side had led the way since the opening weekend, going toe-to-toe with reigning champions Manchester City, but the pressure seemingly got the better of them.
Fingers will be pointed towards their three consecutive draws against Liverpool, West Ham and Southampton as the defining moment of their downfall.
However, recent statistics have underlined exactly where they have fallen short.
Arteta has relied heavily on a core group of players this term, allowing very little room for rotation - an issue they must address in the summer transfer window.
Indeed, according to a new graphic released by Sky Sports, Arsenal have made the least changes to their starting XI compared with every other team in the division, raising serious concerns over their lack of options.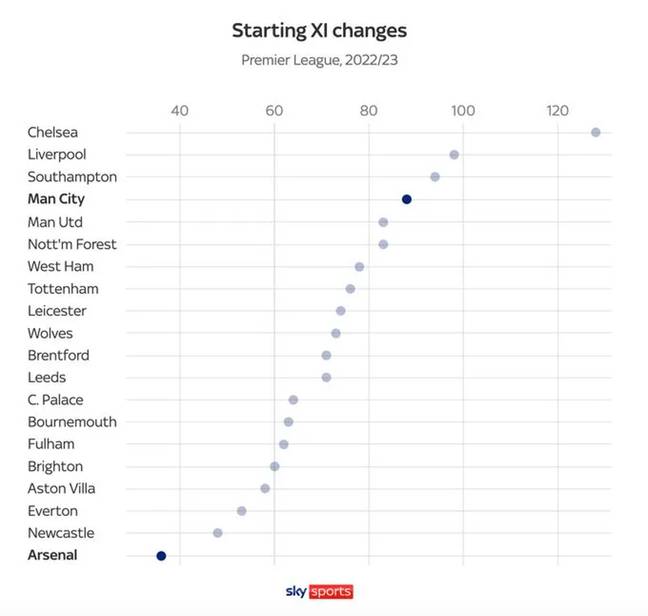 Arteta sending message to Kroenke
The Gunners have made just 36 changes to their starting 11 all season, 12 less than anyone else in the top flight.
Comparatively, league leaders Manchester City have made a total of 88 changes so far, indicating a dramatic contrast in squad depth.
Whereas Pep Guardiola's side have got better as the season has progressed, Arsenal have lost their momentum at the critical moment - with a number of first-team players appearing to run out of steam.
There has been an immense pressure exerted on the likes of Gabriel Magalhaes, who hasn't missed a single Premier League match all season.
An injury to William Saliba also threw a spanner in the works, forcing Arteta to delve deep into his reserves for backup, with Rob Holding unable to fill the void left behind by the Frenchman.
Therefore, the statistics must serve as a lesson to Stan Kroenke, who will need to back Arteta in the summer market if Arsenal are to challenge for the title again next season.