"I love the kid..." - Arteta set for emotional reunion when Arsenal take on Sporting Lisbon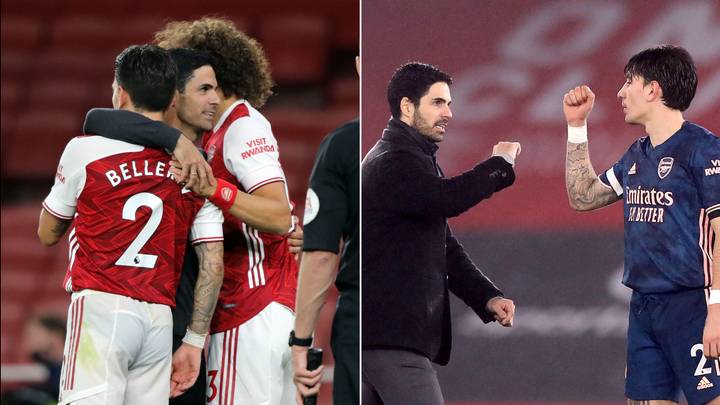 Arsenal boss Mikel Arteta is set for an emotional reunion with a former Gunners star when he takes his side to face Sporting Lisbon in the Europa League round of 16.
It will be just the fifth and sixth time the two teams have faced off in their histories, having battled each other twice in the 1969/70 and 2018/19 seasons.
The Gunners face three Premier League matches before their trip to Portugal, as they hope to extend their two-point advantage at the top of the table.
Once those games are complete, however, Arsenal will then focus fully on their upcoming Europa League assignment - and there will be a reunion involved for Arteta.
Mikel Arteta set for Arsenal reunion
Arteta will be reunited with former Gunners star Hector Bellerin, with the pair having played together at the Emirates Stadium between 2012 and 2016.
Bellerin came through the club's academy and signed his first professional contract with the club in 2012. He remained in north London for a further 10 years until departing for Barcelona.
The Spain international established himself as a key player towards the end of Arsene Wenger's reign, and became renowned for his offensive abilities and incredible pace.
But an ACL injury suffered in January 2019 derailed his progress, and Bellerin struggled to recapture his previous form after his return.
He now plays for Sporting, having been signed in January as a replacement for Tottenham-bound Pedro Porro. Still only 27, Bellerin will now hope to beat his former club over two legs.
Speaking about the defender after his move to Barcelona, former Gunners midfielder Arteta said: "He called me really late last night and it was more of a conversation that we used to have when we were teammates and really good friends.
"If you take away the coaching and player situation a little bit, I get back into that relationship as well.
"I love the kid, I love what he's done for the club. He's someone that I have really strong feelings about and I wish him all the best because I know that it's one of his dreams to play there [Barca].
"Hopefully he can fulfil his dream and get his career back to where he can because he's still very young and has a lot he can do."