Allan Saint-Maximin's Highlights Vs Everton Prove He Is The Most Exciting Player In The Premier League
Newcastle beat Everton 3-1 to move out of the relegation zone and Saint-Maximin well and truly lit up St James' Park.
He was so good, in fact, that Toffees boss Frank Lampard said the Frenchman was "pretty unplayable at any level of football, the way he played tonight".
It was quite the compliment from one of the Premier League's best but a deserving one.
With the ball at his feet, Saint-Maximin was absolutely sensational and regularly left Everton defenders on the floor with his trickery.
His ability to change direction with feints and shimmies is incredible and the way in which he plays the game is so entertaining.
Newcastle have a history of French players who specialise in getting fans off the edge of their seat. David Ginola and Hatem Ben Arfa are two that spring to mind.
Saint-Maximin, who already has serious "streets will never forget" vibes, is in that same league because you just don't know what he is going to do next.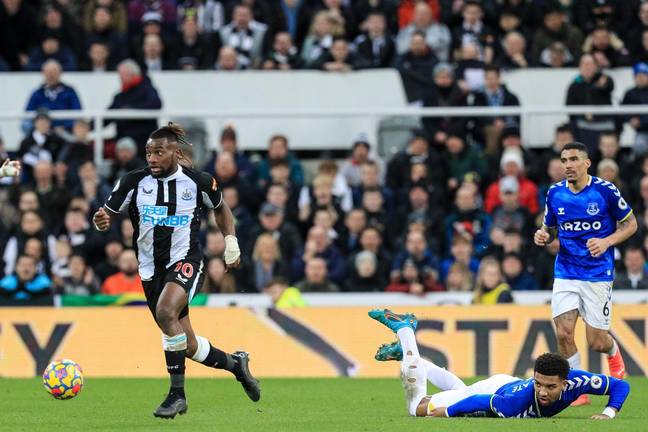 Last night he jinked and slalomed his way through the Everton defence on so many occasions, assisting Ryan Fraser's goal to put the Magpies 2-1 up in the second half.
He created three chances overall, which could have resulted in two more assists had Joelinton known how to finish - while also having ten touches in the Everton box and completing 10/13 dribbles he attempted.
At the end of the game, the former Nice man sang along to 'Hey Jude', with his arms outstretched as he connected with the fans who utterly adore him.
Saint-Maximin's form is absolutely key to Newcastle retaining their Premier League status and manager Eddie Howe knows they need him to continue producing.
He told BT Sport: "He's such a special player. We've seen in the last few weeks that he's got better and better since I've been here. I'm delighted with his performance today, he's a real threat and he's someone I'd hate to play against personally because you just can't predict what he's going to do.
"But he's a match winner, and we're going to need him at this level for the rest of the season."