A 13-year-old boy has made history in becoming the youngest ever senior footballer in the United Kingdom.
Christopher Atherton is still in year 9 at secondary school but was introduced as a substitute for Northern Irish semi-pro outfit Glenavon in their 6-0 thrashing of Dollingstown on Tuesday night.
He was 13 years and 329 days old when Glenavon player-manager Gary Hamilton handed him his debut at Mourneview Park, replacing Jack Malone in the 75th minute.
And the decision proved to be an inspired one as Atherton got an assist with what was his first touch after coming on in the League Cup clash.
Atherton set up Matthew Snood for the sixth and final goal in the rout.
Tonight, Glenavon Academy player Christopher Atherton made his first team debut against Dollingstown in the League Cup. At 1⃣3⃣ yrs and 3⃣2⃣9⃣ days old, he became the youngest player in the UK to play in a first-class match.

Congratulations Christo!!👏🏼💙 pic.twitter.com/hypGdC5R7p

— Glenavon FC (@Glenavon_FC) September 13, 2022
Also, not to mention, his first touch of the ball tonight was an assist!

What an amazing debut!!👏🏼👏🏼

— Glenavon FC (@Glenavon_FC) September 13, 2022
His club congratulated Atherton on his historic achievement, which breaks a 42-year-old record set by Eamon Collins.
👏 Congratulations to @Glenavon_FC's Christopher Atherton, who made his first team debut against Dollingstown tonight aged 1⃣3⃣ yrs and 3⃣2⃣9⃣ days old to became the youngest ever player to play senior football competitively in the UK. pic.twitter.com/uQuK7XT2et

— NI Football League (@OfficialNIFL) September 13, 2022
He made just one appearance for Blackpool aged 14 and 323 days in a Anglo-Scottish Cup game against Kilmarnock on 9 September 1980.
Collins, a Republic of Ireland under 21 international, went on to play for the likes of Southampton and Portsmouth.
Atherton has spent time on trial at Scottish side Dundee United, according to the Belfast Telegraph, and appears to be highly-rated.
In the Premier League, the youngest ever player is Liverpool star Harvey Elliott, who played for Fulham aged 16 years and 30 days.
He is also the proud holder of another record, having become the youngest ever player to feature in the League Cup in September 2018 and 174 days.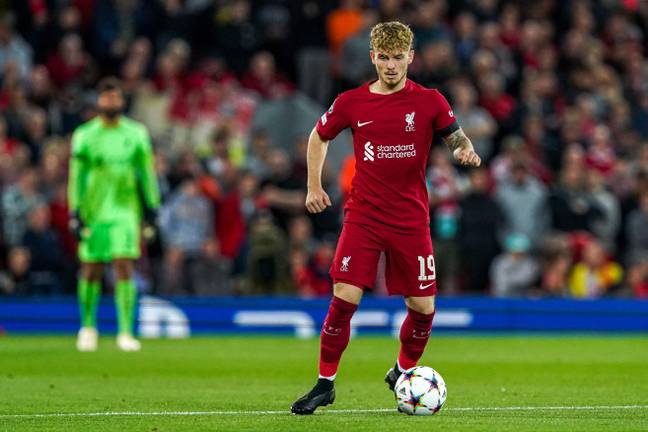 Wearing boots in children's sizes and with his shirt and shorts far too big for him, Marshall slotted into central midfield and did not show any signs of being overawed by the incredible age and size difference.
The player who holds the record for being the youngest to feature in a professional game is Bolivian Mauricio Baldivieso,who came on for Club Aurora against La Paz in 2009 when was just 12.
Mauricio Baldivieso is the youngest player ever to play professional football - on 19 July 2009 his father, Julio Baldivieso, who managed Club Aurora at the time, sent him on as a late substitute against La Paz.

He was 12 back then. pic.twitter.com/fL9w2QCe9A

— Football Talent Scout - Jacek Kulig (@FTalentScout) April 7, 2021
His father, Julio, as manager at the time.