While there is not much more to say about the damage Erling Haaland has done in the Premier League, the same can also be said about his exploits in the Champions League.
The Norwegian striker stands as the youngest, as well as the fastest, player to reach 25 goals in the competition's history.
The youngster is also the first player to ever play for Manchester City to have scored on his debut for the side in Europe's elite competition.
Having already outscored greats such as Raheem Sterling, Gareth Bale, Fernando Torres, Robin van Persie and Hernan Crespo to name a few, Erling Haaland looks destined to reach Cristiano Ronaldo's all-time goal record in the tournament one day.
Ahead of Manchester City's upcoming game against FC Copenhagen in the Champions League, Pep Guardiola commented on his star striker's incredible goalscoring rate in Europe.
"At his age, no one can compete with him, no one," the City boss began.
"The numbers speak for itself. Inside the locker room, on the pitch, we see things not on the stats that make us happy to have him here."
The Catalan tactician also raised an interesting point about how Erling Haaland is unique in the sense of emerging as a gem from a country with a population as less as Norway.
"It doesn't mean (you have to come from) the UK or Italy to be a good football player.
"You can play everywhere. Having natural instincts.
"In Austria, Germany, he has good managers. Erling is who he is."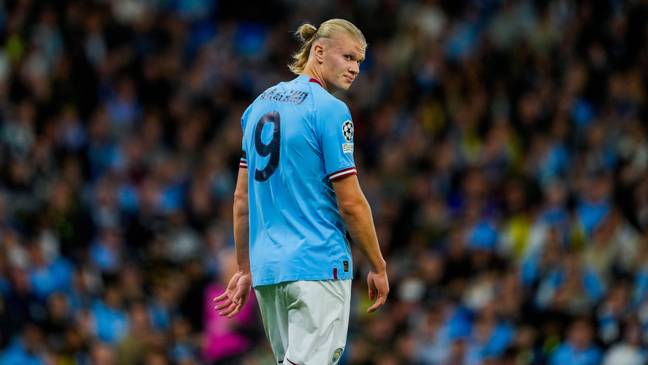 Pep Guardiola went on to reveal the 22-year-old's chemistry with his Manchester City teammates by saying, "It depends on them, normally happens with nice people.
"He has a lot of gestures with young players, staff, on the pitch when it's going well, how he encourages the guys.
"He's not just a striker scoring goals. It comes from his education."
Another new signing from Borussia Dortmund who has taken to the Premier League champions like a duck to water is Manuel Akanji.
Signed out of the blue after injuries to Aymeric Laporte and Nathan Ake, the Swiss international had his fair share of doubters after the Sky Blues' decision to sign him as an emergence centre-back.
With commanding displays against Sevilla, Borussia Dortmund, Wolves and Manchester United, it is safe to say that the doubters have turned into believers.
Pep Guardiola was full of praise for Akanji's fine start to life in sky blue, saying, "Really good, we are very pleased.
"Especially as a person, incredibly educated, the performances speak for themselves too."
With Guardiola coming across extremely chuffed with both Haaland and Akanji, the only way is up for the pair at the Etihad Stadium.