In less than a month, Chris Eubank Jr will walk out to a hostile Welsh reception when he takes on middleweight rival Liam Williams in their long-awaited grudge match in Cardiff.
For Williams, it's an opportunity to rectify the mistakes of his failed world title bid against unbeaten WBO champion Demetrius Andrade in April. For Eubank Jr, it could be the final hurdle to overcome before a world title shot of his own later this year - potentially against celebrated IBF middleweight champion, Gennady Golovkin.
Eubank Jr is already mandatory challenger for the WBA belt currently held by Ryota Murata, who himself was due to face Golovkin last month before their unification fight was postponed, while unbeaten WBC champion Jermall Charlo is another potential future opponent in the wide open middleweight division.
While Eubank Jr is keen to secure a world title shot against any of the current holders, he says it would be a "dream" to face Golovkin after years of chasing the Kazakhstani fighter.
Eubank Jr came close to securing a fight with Golovkin back in 2016 before negotiations broke down, purportedly because of a dispute over a photo in the office of Matchroom supremo Barry Hearn.
In 2020, promoter Eddie Hearn spoke about his efforts to negotiate the fight with Eubank Jr's father, former two-weight world champion Chris Eubank Sr.
"I was trying to do a deal with Chris Eubank Jr. It was me, Chris Eubank Jr and Chris Eubank Sr negotiating a deal. We'd agreed all the terms of the deal," Hearn told BBC 5 Live.
"Then Chris Sr looked at me and said, 'Edward, there's one more thing. In your father's office is a picture of me punching Nigel Benn. It also has the official scorecards from the fight, you must remove the picture and give it to me. If you do I will sign the deal'."
The elder Hearn stubbornly refused to hand over the picture and Eubank Sr subsequently pulled his son out of the negotiations. Or so the story goes.
Kell Brook would instead step up two weight divisions to face Golovkin and was comprehensively dismantled within the space of five brutal rounds at the O2 Arena.
Eubank Jr claims he wasn't present during those final negotiations and is unsure if the photo story is genuine, but insists he was fully prepared to face Golovkin before talks broke down.
"I have no idea why Eddie would say that if it wasn't true," Eubank Jr told SPORTbible, after being named an ambassador for 888poker.
"It came out of nowhere. He has no reason to say that if it isn't true but it does sound strange obviously. At the end of the day the only people who will know is him and my father.
"My father says that it is not true. [He says] it was just contracts, and that Eddie Hearn gave the fight to his fighter, which was Kell Brook. He saw an easier option, which I believe is most likely what happened.
"The most important thing to take from that, is that it was not me that didn't sign on the dotted line. It wasn't me that didn't want the fight to go ahead, or backed out, which is what a lot of haters and naysayers like to put out there on social media.
"I was ready to go and for whatever reason the fight didn't happen.
"But the beautiful thing about boxing is that me and Gennady Golovkin are still in the middleweight division, he has a world title and that fight can happen this year."
Before a world title shot can happen, Eubank must first find a way past a dangerous opponent in Williams.
'The Machine' will be backed by fierce home support at Cardiff's Motorpoint Arena after the Welsh government gave the green light for the fight to take place in front of fans on February 5.
It comes as a major relief to all involved, with the fight already delayed twice before – most recently after the British Boxing Board of Control suspended all boxing in January to allow medics to concentrate on tackling Covid-19.
With the fight now set to go ahead, Eubank has promised to produce "savagery at its finest" and insists he is fully prepared for the hostile reception that awaits him in the Welsh capital.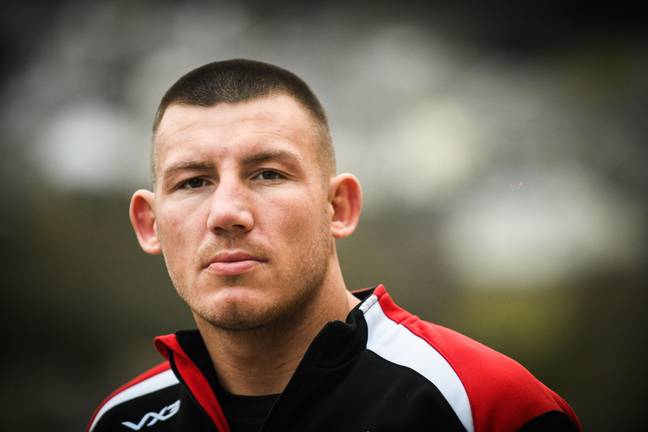 "Am I excited by it? Fans booing me and wanting me to lose? No. But will I enjoy it? Absolutely. It's a fight. It's what I do," he added.
"Regardless of whether the fans are there to watch me win or lose, they're there. They're watching me. I've said it before, I don't mind being the bad guy."
While Eubank Jr has been prepared to play the villain at times during his career, he has continued to gain fans – particular after changing his style under the guidance of legendary former four-weight world champion, Roy Jones Jr.
But his growing popularity has also brought about some odd requests from supporters. Following his one-sided win over Germany's Wanik Awdijan in Newcastle in October, Eubank Jr was asked to sign a microwave which later sold for £66,000 on eBay.
"It was a crazy thing, this kid coming up to me and asking me to sign this microwave in the middle of Newcastle," said Eubank Jr.
"The day after that happened there were three people outside my hotel with microwaves waiting for me to come out so that I could sign them!
"I've had a few strange requests since then, definitely, but it's all fun and games."
Eubank Jr is likely to receive a less genial reception on the streets of Cardiff if he beats Williams next month but the 32-year-old is ready to forgo popularity to secure a coveted world title shot.
"As long as I get that win, as long as I do my job. That's all that matters."