An Emotional Tyson Fury Announces He Intends To Retire From Boxing After Beating Dillian Whyte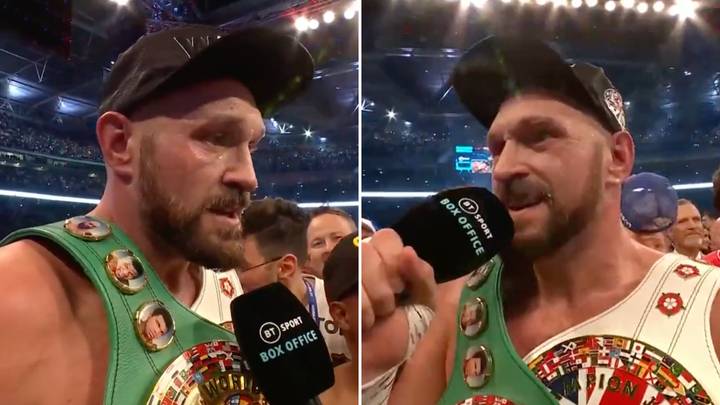 Tyson Fury has announced he intends to retire from boxing after defeating Dillian Whyte at a sold out Wembley Stadium.
Fury then appeared to call time on his glittering career, with a record of 31 wins, one draw and zero losses.
"You know I promised my lovely wife Paris of 14 years that after the Wilder three fight that would be it and I meant it. It was a great trilogy but I meant that," Fury declared.
"I got offered to fight at Wembley, at home, and I believe I owed it to the fans, every person in the UK to fight at Wembley. I think this is it, this might be the final curtain for 'The Gypsy King'. What a way to go out."
Fury then serenaded the 90,000 strong crowd with a rendition of Don McLean's 'American Pie' before departing.
The 33-year-old had talked up retirement in the build-up but many were unsure if the claims were true.
His ring walk this evening looked to be a tribute to his entire career, featuring elements of old entrances.
It remains to be seen if he sticks to his word, with many in attendance believing he still has one more in him.
Whyte started the fight southpaw and it threw Fury initially, before switching to orthodox in the second round.
The pair are former sparring partners and were quite friendly with one another in the build-up.
All that changed however as Whyte started to throw wild swings.
It boiled over in the fourth after Whyte was bloodied by an accidental clash of heads.
He responded by striking Fury with an elbow, which left him and his corner enraged.
A cup of water appeared to be thrown from Fury's corner and referee Mark Lyson addressed both men.
It seemed to rattle Whyte and he continued to throw wildly until meeting his demise in the sixth round.
Do you think Tyson Fury has really retired from boxing?
Let us know in the comments.