AFL Legend Rex Hunt Brandishes Pitchfork In Aggressive Road Rage Incident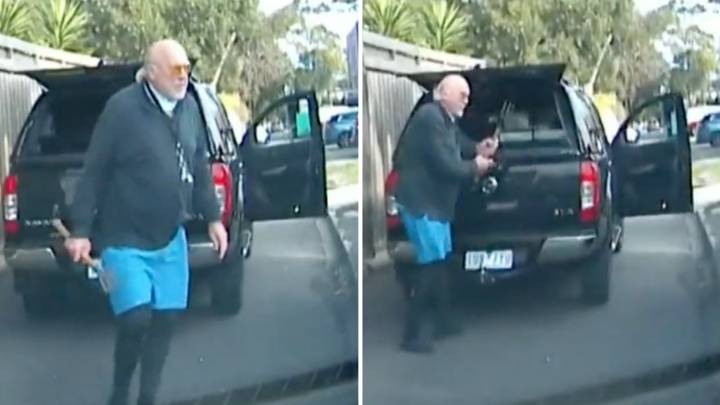 Featured Image Credit: 9News Queensland/Twitter.
AFL legend Rex Hunt has been involved in a distressing road rage altercation that saw him wield a pitchfork and threaten a fellow driver.
Dash-cam footage caught by bystanders show the heavily heated incident suddenly boiling over when Hunt and another driver turned violent in Beaumaris, Melbourne.
According to Nine News, Hunt and the other driver's vehicles were travelling in the same direction before both people got out of their cars to confront each other.
In one clip, Hunt went nose-to-nose with another aggressive ponytailed male who drove a Commodore.
The driver then appeared to throw a strike at the 73-year-old who stood beside his Nissan Navara, however, the shot didn't seem to bother the former Richmond player.
Hunt then proceeded to open his boot and retrieve a garden fork and make his way back to the driver like a scene from a horror movie, as bystanders pleaded for him to walk away.
Off-camera Hunt can be heard saying: "You wanna die? You wanna die? Do you want to die?"
One person is heard saying: "Rex, just leave him."
According to Nine News reporters, witnesses say the other man ran after Rex and was seen throwing punches at trees, meanwhile Hunt reportedly attempted to lunge at the man with the gardening tool.
Witness Byron Hughes told the news reporters: "His wife was there… and he was just threatening the guy."
Hunt proceeded to circle the block several times after the incident, however, no one was hurt in the incident.
No official report was made to the police as of last night.
The former commentator has a fiery reputation for getting aggressive.
Last year, the former Victoria Police senior sergeant followed a thief into a bathroom at the Once Upon A Time fight night at the Melbourne Pavilion.
The Herald Sun reported that Hunt had noticed the man stealing A Current Affair reporter Seb Costello's satchel.
Hunt proceeded to throw a punch at the man in the bathroom knocking the 'low life' to the floor.
At the time, Rex said: "I went whammo with my right ... the next thing I remember he was lying next to one of those yellow lollies in the urinal.
"A few minutes later his mates helped carry the low-life out and one yelled to me, 'You are f***ing mad, old man'."
"I said, 'Watch halfway through Gran Torino and learn not to f**k with old blokes'."