Chelsea handed boost in pursuit of transfer target Cesare Casadei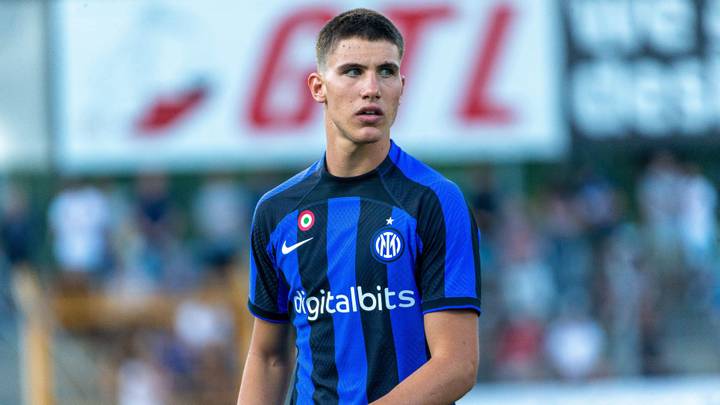 Featured Image Credit: Alamy
Chelsea have been handed a boost in their pursuit of Inter Milan youngster Cesare Casadei, according to reports.
The Blues have been very active in the transfer market so far this summer, with Raheem Sterling, Kalidou Koulibaly and Marc Cucurella all signing for the World Champions.
Thomas Tuchel's side have also been investing in youth players throughout the window, with 18-year-olds Gabriel Slonina and Carney Chukwuemeka both putting pen to paper on deals at Stamford Bridge.
Such signings are statements of intent not just for the present, but also for the future, with Todd Boehly and Clearlake Capital keen to make a strong impression since the completion of their takeover in May.
Both Jorginho and N'Golo Kante will see their contracts expire next summer should they not renew, meaning the Blues may have to target new midfielders.
Casadei has emerged as a target for the club, and the Blues could be close to acquiring him this summer.
According to the Evening Standard, the west London side are 'preparing another approach' for the 19-year-old midfielder from Inter.
It is thought that the Italian giants would accept a bid of around £12 million for the youngster, who has not yet made a professional appearance.
He has been heavily scouted by Chelsea and should they be successful in signing him, then he will be integrated into the academy and developed with the first team, although there is a chance he could be loaned back to the Serie A.
Inter have already rejected two offers below £10 million from Tuchel's side, but they could be successful if their next offer is deemed acceptable.
It is not just the midfield who may be refreshed with younger signings at Chelsea, especially given the age of some of their defenders.
Tuchel recently revealed their plans to replace some of their experienced options, particularly Thiago Silva and Cesar Azpilicueta, when he said: "It is a lot of experience (with Silva, Azpilicueta and Koulibaly).
"They have their quality and know what they are doing.
"We need to make sure we have a new generation to take over in the next years but the guys are strong, that is why they have our trust. Yes, there needs to be a balance.
"The game, in general, is very physical and demands a lot. Azpi is the legend that he is, Thiago is still very important to us.
"When we had the chance to sign Kalidou we did it because we believe he has some years ahead of him.
"But, in general, it is the fact that — like the goalkeeper and the two holding midfielders — they are in their thirties and that is just what it is."