Leaked: The 2022/23 Chelsea Home, Away And Third Kits Revealed
The beginning of the 2022/23 season is just a month away for Chelsea with the squad due to report back to their Cobham training base on 2 July after their post-season break. During their absence, work has been done off the field following the club's £4.25bn takeover by the Todd Boehly/Clearlake Capital consortium.
Prior to the takeover, Chelsea had sanctions placed on them by the UK Government which denied them to sell any merchandise and as a result they had to shut their megastore. Sponsors also withdrew with their main shirt sponsor Three UK suspending their partnership with the Blues.
But last Wednesday, Chelsea's megastore at Stamford Bridge reopened and supporters were able to flock to the ground to snap up 2021/22 kits.
"Chelsea Football Club is pleased to announce we are reopening the doors at Stamford Bridge for visitors to the Megastore, our Tours and Museum, Frankie's and the Copthorne and Millennium Hotels. The online store is back up and running too!" said the club on 31 May.
By this time of year Chelsea's home kit for the 2022/23 campaign would be confirmed and available, usually out in May. However, because of the sanctions imposed they have had to delay the launch and the home kit is now expected to be out around July time with the squad having already taken part in the promotional work for the announcement.
It remains to seen if Three will be the main shirt sponsor next season, however the designs for the kits have now been confirmed by Footy Headlines.
2022/23 Home Shirt
The home strip is all blue with a white/turquoise neckline.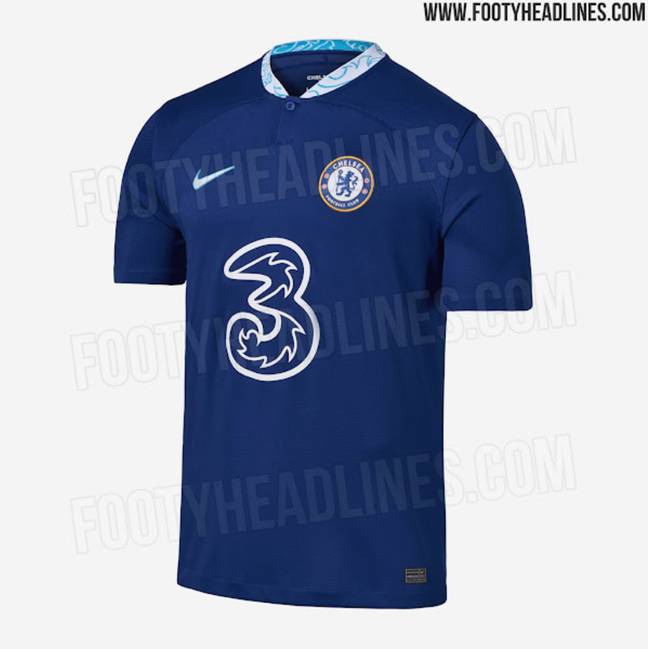 2022/23 Away Shirt
The away strip is mainly white with four teal hoops, with the official colour scheme noted as white, chlorine blue and college navy.
2022/23 Third Shirt
The third strip combines a sesame gold base with black and orange.
Chelsea are likely to debut their kits on their tour of the United States in July which begins on the 16th when they face Club America in Los Angeles, before heading east to play Charlotte FC and Arsenal on their week-long tour of America.
But when the actual dates of when each kit is launched, with the third likely to come later on, is still unclear. There is still plenty of work to do as Thomas Tuchel begins his on the field preparations by targeting players to recruit to bring into his team for next season.
Featured Image Credit: Eleventh Hour Photography / Alamy
Topics: Chelsea