Conor McGregor Announced His 'Retirement' Back In 2016 And Look What Happened
Let's not get too carried away with Conor McGregor's recent 'retirement' news.
In a tweet posted on his official account this morning, the 30-year-old announced that he has decided to quit the sport:
"Hey guys quick announcement, I've decided to retire from the sport formally known as "Mixed Martial Art" today.
"I wish all my old colleagues well going forward in competition. I now join my former partners on this venture, already in retirement. Proper Pina Coladas on me fellas!"
But just a month after he lost to Nate Diaz in March 2016, the Irish fighter announced his 'retirement' for the very first time.

It didn't take him long to perform a u-turn on his decision - returning to the Octagon four months later to face Nate Diaz in a rematch - and many think he will return to the Octagon in the near future.
"I have decided to return to retire young. Thanks for the cheese. Catch ya's later" he said on Twitter in 2016.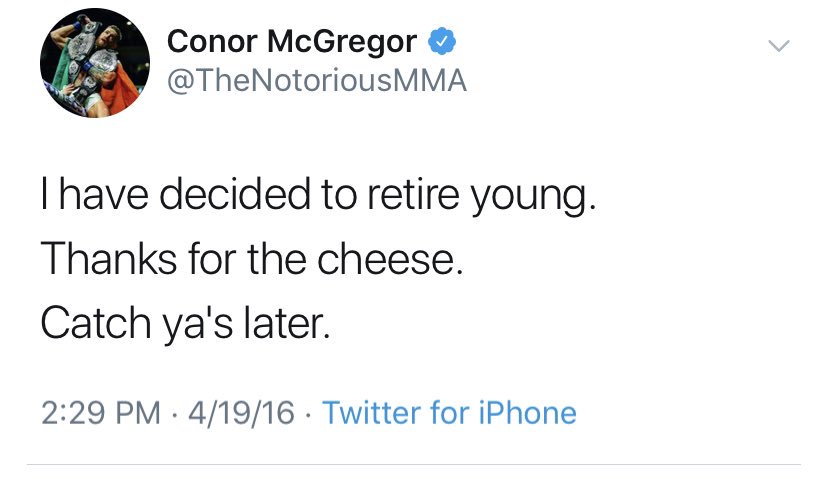 Image: Conor McGregor/TwitterEarlier this month, McGregor confirmed he was ready to give Nate Diaz a rematch at 185 to complete what would become one of the greatest trilogy fights of all time.
The Irish fighter told the UFC to book the bout against Diaz for the upcoming event on May 11 at Arena da Baixada in Curitiba, Brazil. He said the following on Twitter:
More Like ThisMore Like This
1 of 6
"Book it. I'll fight Nate on it."
McGregor even responded to a tweet posted by Nate Diaz, saying he "doesn't give a f*ck about the weight."
He later went on to tweet "265 cheques" which is rumoured to be their potential price purse, according to ScrapDigest.
Thoughts on Conor McGregor's recent retirement news?
Let us know in the comments.
Topics: Conor Mcgregor, Nate Diaz, UFC News, Retirement, UFC, mcgregor, MMA, reactions
Chosen for YouChosen for You