Alex 'Cowboy' Oliveira's Forehead Splits Open And Blood Squirts Everywhere After Brutal 'Hell-Bow'
MMA fans are accustomed to seeing lots and lots of blood, but even the hardcore's out there were shocked by the amount shed at UFC 231 last night, especially in the fight between Gunnar 'Gunni' Nelson and Alex 'Cowboy' Oliveira.
Nelson delivered a number of heavy 'hell-bow's' before eventually picking up the win thanks to a clever rear-naked choke.
And one strike in particular split 'Cowboy's' forehead open, with blood literally pouring down his face.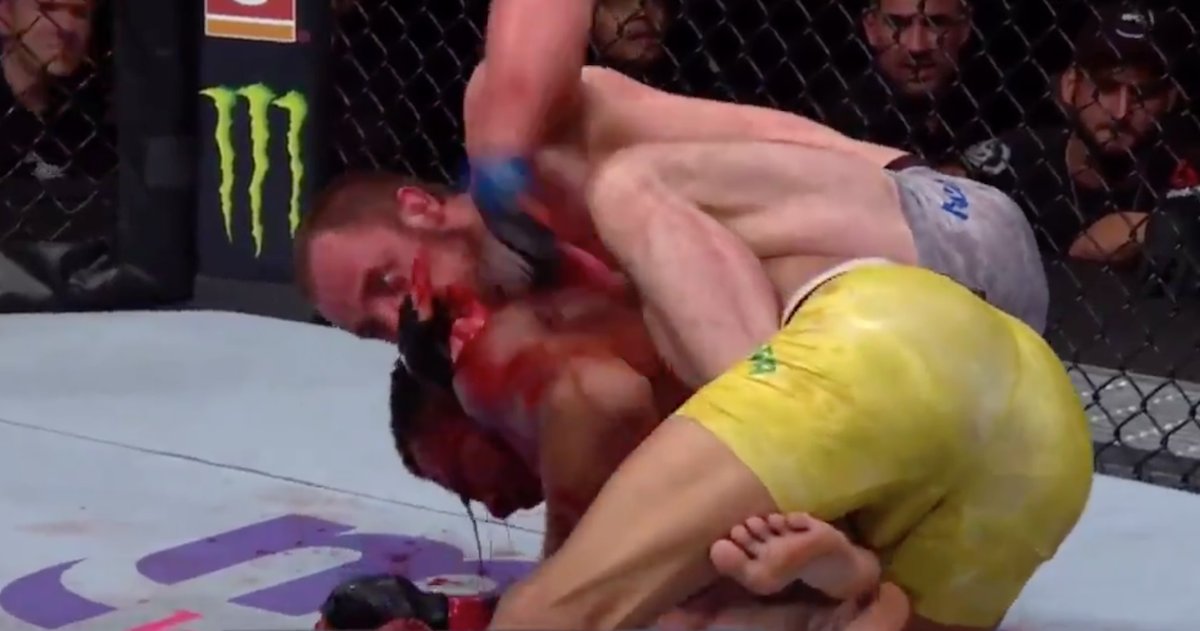 Image: UFC

Plenty had doubts whether the Icelandic fighter could pull of a win on his eagerly anticipated return to the Octagon, but this performance proved the doubters wrong.
Nelson picked up the win in the second round as the Scotiabank Arena in Toronto looked on in shock.
This fight will forever be remembered for it's extremely bloody ending. WARNING: The following clips are very graphic.
Plenty were surprised by the outcome of the fight but Gunnar Nelson was confident of victory.
"It ended the way I expected," Nelson said via MMA Fighting.
"I believe he hit me in the back of the head, he caught me with the shot and got me a little bit disorientated. I was surviving there, but I was able to finish the job."
As you can imagine, social media couldn't quite believe what they were witnessing at UFC 231:
An ugly scene throughout Gunnar Nelson's finish of Alex Oliveira, one of the bloodiest finishes i've ever seen and Nelson is back in the win column. #UFC231

- TheMMATakeover (@themmatakeover) December 9, 2018
This might go down in history as the most bloody ending in MMA history. Ouch.