If you were a wrestling fan at any point in your life, you will be well aware of who Rey Mysterio is.
The Master of the 619 is one of the most popular WWE Superstars in history thanks to his incredibly high-flying abilities and the fact he was the ultimate underdog, given that he was smaller than a good chunk of his opponents.
Little Rey is a three-time world champion in WWE and is seen as one of the very best Cruiserweights, having won the championship five times in WCW and the new version of the belt three times in WWE.
If you want to recall some of the most memorable WWE quotes and catchphrases, watch the following clip:
If you are a hardcore wrestling fan, you may recall one particular storyline that Mysterio was involved in with Eddie Guerrero back in 2005, where he and the late wrestler fought over the custody of Rey's real-life son Dominic.
The two were tag team champions together after beating the Basham Brothers at No Way Out but became divided and subsequently met in a match at Wrestlemania while they were both still tag team champions, with Mysterio winning.
Anyway, as Guerrero grew jealous of Mysterio, he abandoned him in a match with MNM, attacked him after a gruelling street fight with his nephew Chavo Guerrero and revealed that he had an untold secret about Mysterio. In storyline, the families of both men begged the secret not to be let out, with Mysterio beating Eddie in a match at the Great American Bash - thus preventing Guerrero from telling the world exactly what the secret was.
However, Guerrero, portraying a villain at the time, revealed the secret anyway and claimed that he was the biological father of Rey's real-life son Dominic and that he passed him on to Rey and his wife Angie because they were having issues starting a family of their own.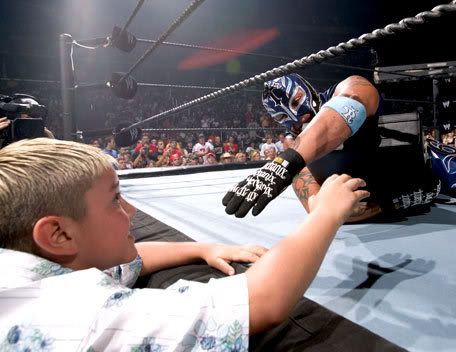 Image result for rey mysterio and son

There's a big recap of the whole feud here:
An eight-year old Dominic was then brought into the storyline and used in a controversial angle where Mysterio and Guerrero had a ladder match at Summerslam, with the custody of Rey's son on the line. Two men genuinely had a wrestling match to decide who was to be the kid's parent and guardian.
Mysterio unhooked the briefcase, which contained the custody papers, thanks to outside interference from Guerrero's wife Vickie.
Now over 10 years later though, little Dominic is no more as, he completely towers over his father.
Here are some pictures with Mysterio and his son. (Please note that if you don't want to see Rey Mysterio without his mask, look away now)
Now a college student and standing at around six feet tall, he has followed in the footsteps of his father by starting wrestling training.
With such strong family ties to the wrestling business, it surely won't be long before he's making a huge splash in WWE.
He's going to have to perfect that 619 though...
If you want more wrestling goodness, check out our lengthy interview with Triple H: