Saudi Arabian Footballer Facing Jail For Dabbing During A Match
The dab. Whatever your feelings towards this movement of the arm and head, it has become a household trend. A social phenomenon as such.
The likes of Paul Pogba and Jesse Lingard have dabbed hundreds, if not thousands, of times in recent times but if the pair performed this popular act in the country of Saudi Arabia, they would be punished.
That's right. The act of dabbing is illegal in Saudi Arabia due to perceived links to drug culture.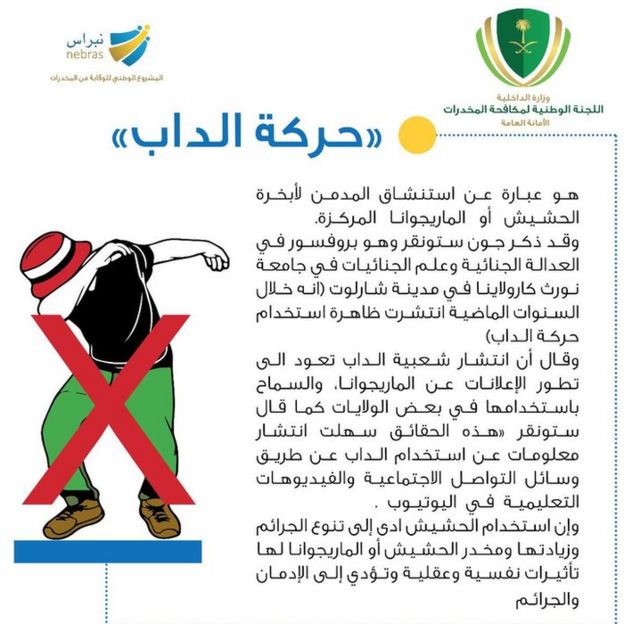 undefined
Image: NCNC

In fact, a government initiative that aims to prevent youth from drug addiction referred to it as a move suggesting sniffing drugs, according to the Saudi Gazette.
So perhaps this bloke who plays for Saudi club Al Nojoom didn't know that dabbing was strictly forbidden in the country during a game against Al Wahda.
In a recent King's Cup match, the unnamed footballer dabbed after someone on the substitutes bench reached out for a high five.
As you can see in the footage above, a shocked commentator proceeded to mutter "no, no, no" shortly after he produced the popular move.

The Saudi Interior Ministry's National Commission for Combating Drug has previously warned that the dab is a 'harmful influence of youth', according to Inquisitr.

It is thought that the player will be punished after famous Arabian singer Abdallah Al Shahani dabbed on stage last year. He was subsequently arrested by authorities after the video that emerged went viral.
"Jailing the soccer player would not set a precedent, as famous Arabian singer and TV host, Abdallah Al Shahani, was arrested by Saudi authorities after video surfaced of him dabbing onstage last August."https://t.co/T3BtZngdR6
- Lars Weisbrod (@larsweisbrod) January 7, 2018
Al Shahani later apologized on social media the stage dab, saying: "I apologize to our respected government and to my audience for unintentionally and spontaneously making the dance move at Taif festival. Please accept my apology."

So there you go. If you happen to visit Saudi Arabia in the future, i wouldn't exactly recommend dabbing.
Thoughts on the punishment?
Let us know in the comments.

Topics: Saudi Arabia, Football, world