The Story Behind Thomas Muller's Rating On FIFA And Why He 'Breaks The Formula'
It was revealed in 2018 that Bayern Munich striker Thomas Muller had to have his FIFA ratings improved because "he wasn't good at anything."
Let us elaborate. So the man responsible for collecting and verifying the football data at EA Sports, Michael Mueller-Moehring, explained how the German international breaks the formula for working out a player's overall rating.
Normally a team of 9000 data reviewers, which includes professional-level scouts and coaches, decide a rating.
The majority are made up of season-ticket holders who watch loads of games in person, who then provide feedback.
But Thomas Muller's results were different, so Mueller-Moehring explained the situation.
"A case is Thomas Muller, who isn't good at anything, really, apart from his positioning." he told ESPN..

"He always finds the right spot on the pitch, it's amazing. But he's not a great dribbler and he can't really strike the ball properly - his finishing is sometimes really, really off. Shot power is not his strength as well.

"So if you rate Thomas Muller properly, he ends up with a rating that we say doesn't make sense. It's too low."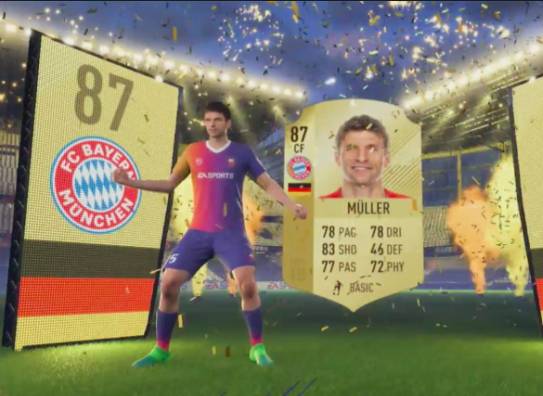 So, in short; EA Sports boost his overall rating to reflect his standings in the game.
It isn't exactly a compliment for Muller, who didn't do himself any favours earlier this year when he took quite possibly the worst corner ever against Schalke.
Bayern won 1-0 away from home in the DFB quarter final courtesy of a goal from Joshua Kimmich but the real highlight - if you can call it that - was Muller's absolute gaffe of a corner kick.
The World Cup winner initially walked away from the set-piece just after half-time before going back to the spot and attempting a quickly taken corner similar to the one Trent Alexander-Arnold destroyed Barcelona with at Anfield back in May.
But the German got it horribly wrong and although you could see he was clearly looking for the run of Philippe Coutinho, he ended up going full Sunday League by kicking the ball out of play.
Let's hope EA didn't see that corner kick, Thomas.