Sutton United Goalkeeper Wayne Shaw Has Received One Of The Most Bizarre Offers Ever
On this day in 2016, Wayne Shaw was an unused substitute as Sutton United drew 2-2 with Hemel Hempstead Town. A year on, they're facing Arsenal in the FA Cup Fifth round.
Shaw's reputation has risen astronomically after his appearances on the Sutton United bench was circulated on social media, and it looks like the fame has left the 46-year-old with a few offers.
The 46-year-old has actually been offered the chance to pose naked with just a pair of goalie gloves on by an unnamed publication.
Here's Wayne Shaw in action for Sutton:
In Shaw's interview with the Daily Mail, he spoke of his rather bizarre offer:
"One publication asked if they can photograph me naked. Like, everything off, except a pair of goalie gloves, apparently.

"They said they'll position me in a way that covers me up, if you know what I mean. Not sure what I'll say to them. It's definitely the strangest thing that's happened to me in all this."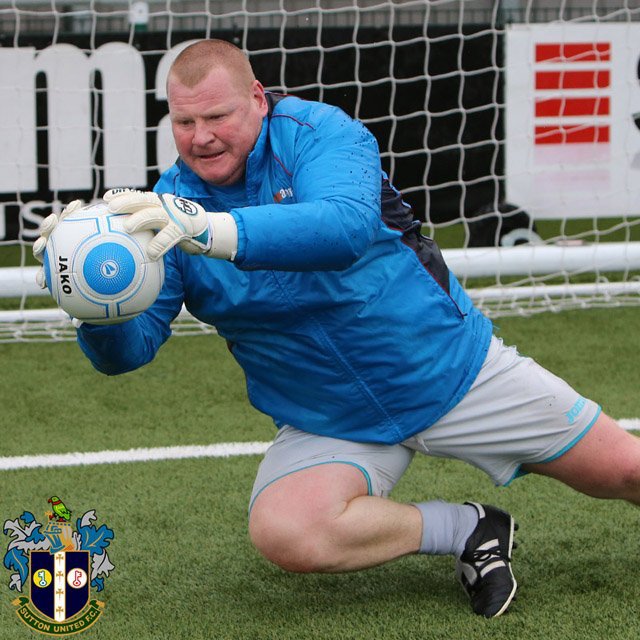 undefined
Credit: Sutton United

The goalkeeper also spoke of playing with Alan Shearer during his days at Southampton youth, revealing that he wasn't supposed to end up as a goalkeeper in a rather brilliant story:

" i wasn't meant to be a goalkeeper. I was a striker on associate schoolboy forms at Southampton. I remember going to a tournament in Sweden with Alan Shearer in our team.
"Three months later he was in the first team and scored a hat-trick on his debut - decent player now I think of it."

"I left for an apprenticeship at Reading and then joined Basingstoke before going on loan to Bashley. One day they had a goalkeeping dilemma and the manager said I had to buy a pair of gloves. We beat Salisbury 1-0 and I've been in goal ever since."
We all want Wayne Shaw to get a kick about for 5 minutes tonight.
Please make it happen, Sutton United.