The Classic Adidas Predator's Have Been Re-mastered And They Are Life
Oh my word. Adidas have officially dropped the re-mastered predators and they are a thing of beauty.
Through the years, Adidas have blessed us with a number of classic boots.
From the iconic 'Champagne' boot to Zinedine Zidane's Predator Precision's, these are without doubt the most popular series of boots to hit the market.
They have become somewhat of a cult to those who had the pleasure of owning a pair.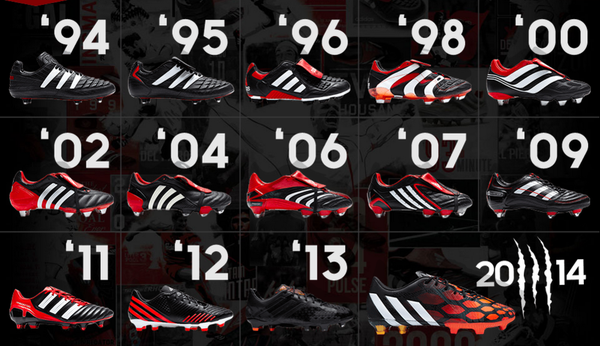 Image: Adidas

Who can forget the classic fold over tongue and leather exterior that made us think we could strike a ball like Beckham and Zidane. If you know - you know.

Anyway, it has emerged that they are available on Pro Direct Soccer on Thursday, which gives you plenty of time to scrape the money together to purchased these magnificent boots.
No joke, I will walk around in my living room wearing these. In fact, I might even walk the streets in them.
The guys over at FootyHeadlines dropped some more exclusive pictures of the new Adidas Predator Accelerator earlier.
Tell me they don't look incredible. Go on.
undefined
undefined
undefined
undefined


In 2014, Adidas released the Predator Instinct and the design was criticised by many. It was a symbol of modern day football. The famous, classic design of a Predator had 'evolved'.
Now, four years later, the classic colourway has returned. Red and black is back.
Will you splash the cash on a pair of these Adidas Predator's?
Let us know in the comments.
Topics: Football News, Football, Adidas, boots