What Diogo Dalot Did With His First Manchester United Pay Packet Is Pure Class
Diogo Dalot decided to put his first Manchester United pay check to good use.
The 19-year-old, who joined the club for a reported £19 million in the summer transfer window, has impressed in the first team when called upon.
More often than not, Dalot has shown maturity beyond his years in the full-back position, showing real attacking intent when possible.
He has gone down a hit with fans, and this story involving his former boyhood club will only improve his reputation with the Old Trafford faithful.
Diogo Dalot for Man United in the Premier League this season:

8 games
484 minutes
20 clearances
8 chances created
4 take-ons completed
4 tackles won
3 interceptions
1 assist

Eyeing up a future regular right-back spot.
- Man Utd Empire (@Empire_Mu) February 20, 2019
Dalot used a portion of his wages to help out Fintas Football School, the Braga-based club he once played at before joining FC Porto.

Fintas coordinator Luis Travassos spoke about Dalot's kind gesture in an interview with A Bola:

"We received an invitation to dine at his parents' house, a fantastic family that greatly contributed to his success," he said.
More Like ThisMore Like This
1 of 6
"We thought we were going to get a signed Manchester United shirt and, indeed, it was there waiting for us, which left us radiant. But there was more...
"We talked to Diogo via Skype. He was on the bus going to a game. He told us to go outside. We had a van for the club on the doorstep! It was a shock! We were not expecting it. He prepared everything in secret: he reserved a budget from the first salary in England for that surprise. It's very gratifying."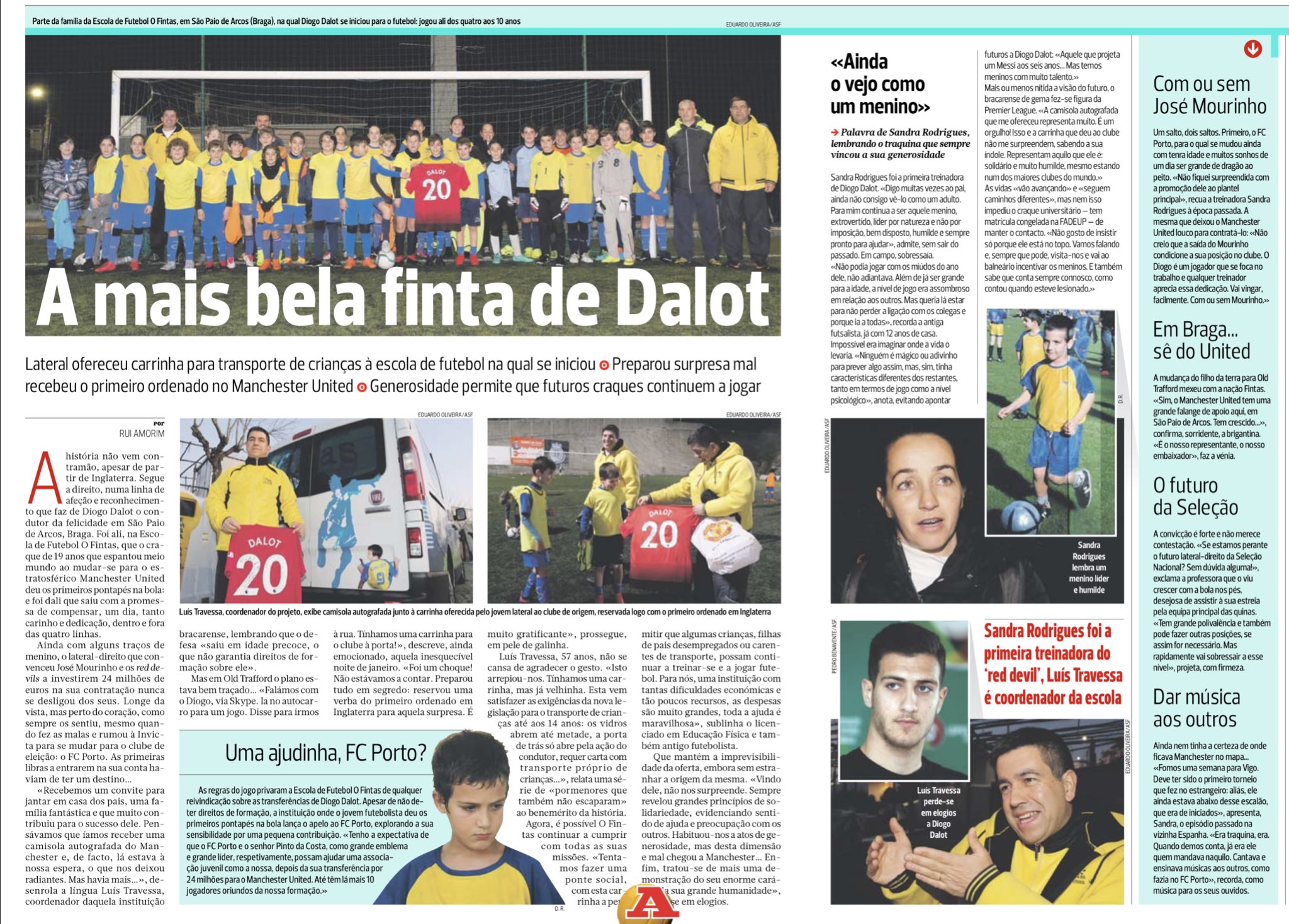 Image: A Bola

The 19-year-old may have completed a switch to one of the biggest clubs in world football, but the full-back clearly hasn't forgotten about his roots.
Dalot's gesture didn't come as a surprise to Travassos:
"Coming from him, it doesn't surprise us. He has always shown great principles of solidarity, showing a sense of help and concern for others.
"He got us used to acts of generosity, but of this size and after he barely arrived in Manchester."
Topics: Football News, Football, Manchester United, Money, Premier League, porto, Defender, wage, Old Trafford, Take a bow
Chosen for YouChosen for You
Most Read StoriesMost Read