Leeds Fan Dressed As Jimmy Saville Sparks Controversy After Singing "He's One Of Our Own" Chant
A Leeds United fan who dressed as Jimmy Saville to a recent away game has been labelled "shameful and "sickening".
In the clip filmed at Blackburn's Ewood Park stadium on October 20, the fan is lifted on another supporter's shoulders, wearing a blue shellsuit, pink glasses and a blonde wig, as he smokes Saville's trademark cigar.
Leeds fans proceed to point at the man and sing: "He's one of our own, he's one of own, Jimmy Saville, he's one of our own." while the man holds his hands in the air.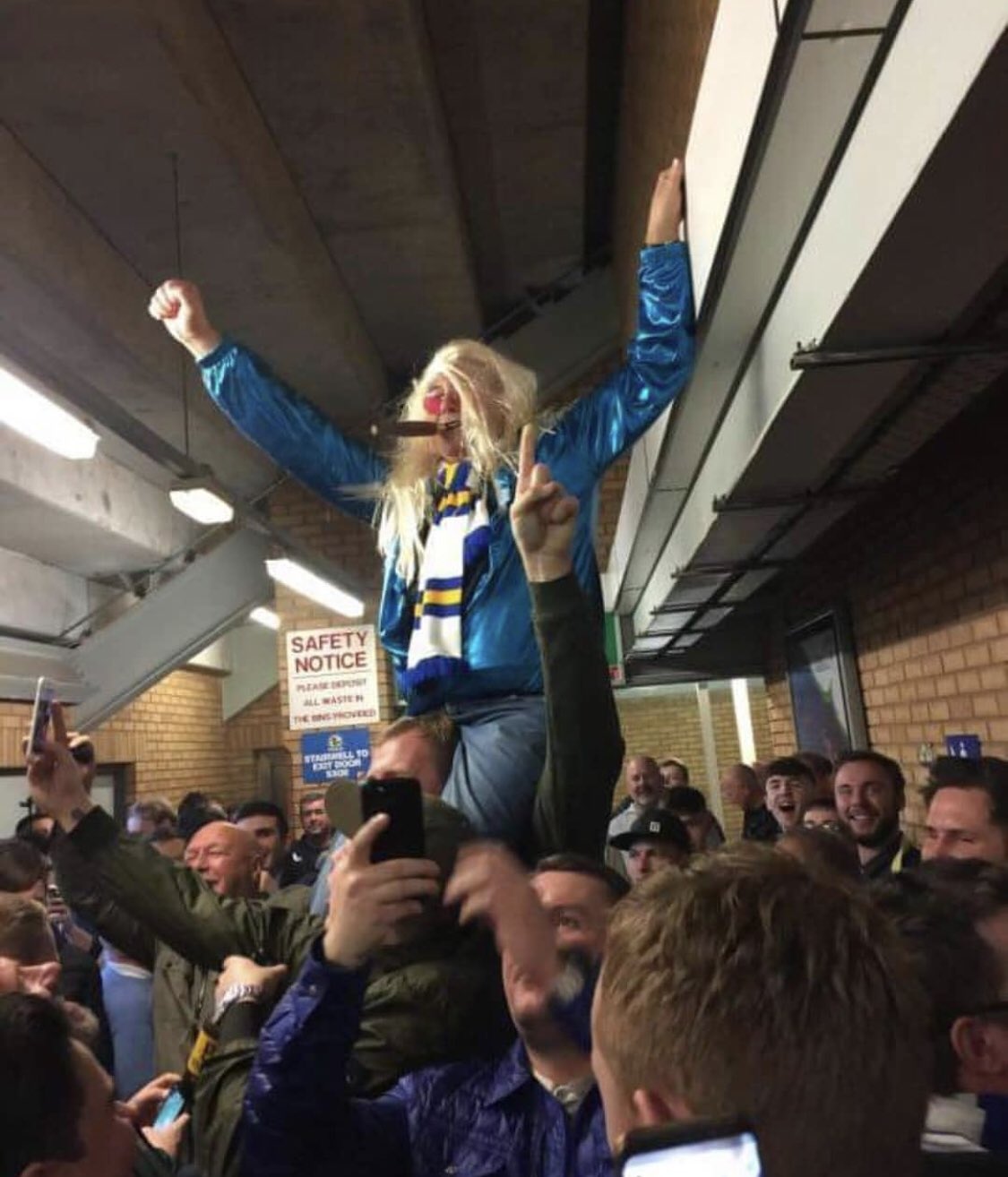 Image: Twitter

The footage has caused outrage, with many slamming the actions of those in the clip.
"I've been a Leeds supporter all my life but if Jimmy Savile is 'one of our own', then I no longer want to be." said one fan.

While another wrote: "They need to consider the hundreds, including 28 children under 10 years old, whose lives were ruined by that b**tard."
More Like ThisMore Like This
1 of 6
However, others defended the video, claiming it was 'ironic' humour in response to Savile-based heckles from opposition supporters.
One person said: "I bet you any money your fans will be singing it against us in a few weeks time. We get it every game from the opposition. The Leeds fans are just being ironic. Poor taste mind but when you hear it every week from the opposition supporters you become used to it."

Another said: "Bad taste yes...but that's all it is! It's self-deprecating humour."
I take my son to Elland Rd and most away games, atleast before he got his scholarship with Wakefield Trinity RL, and I can assure you neither of us condone shite like this. Not all Leeds fans are the same!! 1/2

- PHILIP MANN (@mannyrhino) October 22, 2018
Deceased presenter and DJ, Savile, was uncovered as a prolific sex offender and paedophile, suspected of abusing hundreds of victims.
The former Top of the Pops and Jim'll Fix It host is from Leeds and supporters of other clubs have been known to reference this when playing against Leeds.
Topics: Leeds, Football News, Football, fan
Chosen for YouChosen for You