Frank Lampard Was 'Angriest Ever Seen' At One Player After West Brom Draw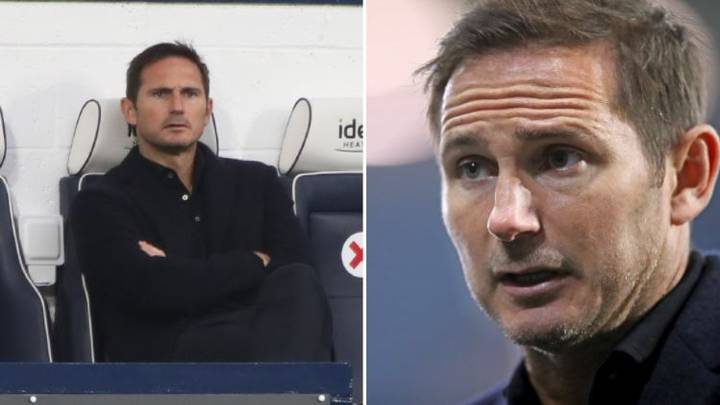 Frank Lampard was so angry with Marcos Alonso after the 3-3 draw with West Bromwich Albion on Saturday evening that he lambasted the defender in front of the rest of the team.
Chelsea were an absolute shambles in defence in the first half on Saturday, as the newly promoted side rushed into a 3-0 lead at the break.
Lampard changed things around at half time, taking off Alonso, for Cesar Azpilicueta, and Mateo Kovacic, for Callum Hudson-Odoi, and it worked out with the Blues coming back to share the points.
However, according to the Athletic, it was the left back who got a 'dressing down' not for his performance but for not returning to join the rest of the substitutes at half time.
The outlet say that the Spaniard instead got showered and then tried to watch the rest of the game from the team bus. He eventually returned to the stands 10-15 minutes later but sat away from his teammates.
Lampard is said to have had a go at the former Bolton Wanderers left back for making the situation about him and that the manager was the 'angriest they've seen him,' though he praised the rest of the team for 'great togetherness, determination and character,' to earn a point.
One source told the publication, "The players were saying they have never seen the manager like this. It kicked off after the game and he was going mad at Alonso. Some were talking about how they'd be surprised if he plays for Chelsea ever again."
The 29-year-old joined the Stamford Bridge outfit from Fiorentina in 2016 for around £24 million and has played 152 times for them since then, winning one league title, the FA Cup and the Europa League.
His position had been in question last season with poor form and the signing of Ben Chilwell from Leicester City in the summer relegated him to second choice.
Injury has stopped Chilwell from making his debut and in his place Alonso was at fault for two of the goals at the weekend.
His weak header in the third minute of the game went to Matheus Pereira, eventually leading to Callum Robinson opening the scoring, and he left Kyle Bartley unmarked for the Baggies' third goal.
Asked why he made two substitutions at half time, Lampard took the opportunity to aim a subtle dig at Alonso, saying, "To give a bit of urgency to the team, a speed of pass, to move it. Azpi brings personality straight into the team, even at left-back."
With Chilwell getting back to fitness it seems very possible that Saturday was the last we'll see of Alonso in a Chelsea shirt, it wasn't the most glorious of endings for him.