Before you even get the chance to sign wonderkids and finesse your tactics and managerial vision, you have to choose which Football Manager 2022 club you want to manage. It's no small feat. Sometimes you'll just want to pick the club you support and prove you could do a better job than the manager currently in charge. That's what I've done. However, you might want a more interesting save, and harness the potential for FM2022 to tell amazing stories you wouldn't be able to find in any other game.
That's where this page comes in. Of course, you could go your own way and make whatever save you fancy. There are plenty of reasons to start a save. Maybe a team has a cool name and you want to bring them to the top. Maybe a club has fallen from grace in recent years and you want to restore them to their former glory. Regardless of your reasoning, here are X clubs sure to give you an exciting save and a hugely rewarding managerial career.
Other articles in this series:
Make Ireland a European Powerhouse - Bray Wanderers
Bray Wanderers are a semi-professional team that's seen its fair share of action in the top division of Irish football. They've been in the second tier since 2018 though, and haven't quite managed to make it back. A lovely coastal town in north County Wicklow, the people of Bray haven't had a huge amount of success, so why not see how you go in making them professional, bringing them up a division, and competing with the likes of Shamrock Rovers for the league title.
The long-term goal of managing Bray Wanderers is to bring Ireland to the top of the game thanks to FM22's new dynamic youth rating system. Right now, Irish youngsters are less likely to be as dominant as players from Germany or Argentina, but with time and skill, you can build the Irish football standing to be feared within European football.
Bray have adequate youth and training facilities, so they're a decent starting point compared to the rest of their league, but it'll be a tough slog all the way to the top. One for you hardcore players who want to drag a whole country's league up with you.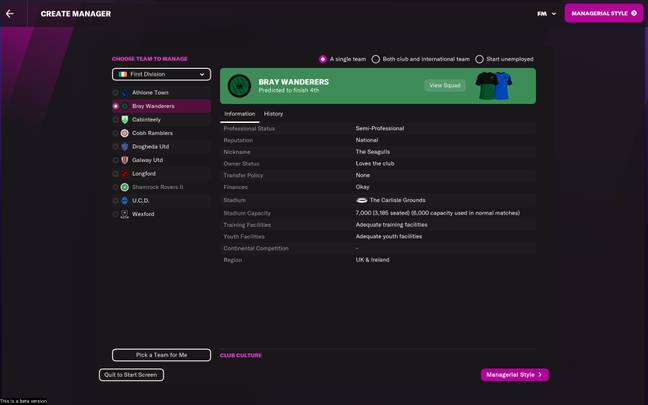 Vegan Champions - Forest Green Rovers
Forest Green Rovers are the first-ever vegan football club since 2015 under the ownership of Dale Vince. Also part-owned by vegan right-back Héctor Bellerín, you'll have high expectations as manager of this club.
Predicted to finish third in League 2 in your first season, you'll have a lot of promises to abide by if you want to keep your board happy. From playing possession football to developing players from your (not great) youth system, Dale Vince is a hard taskmaster.
Sign a young team and watch them develop throughout their time at the club. You'll probably have to do a fair bit of selling as bigger teams swoop in to nab your promising players, but reinvest wisely and you're likely to have a great deal of success with Forest Green. Maybe, just maybe, you'll make them the vegan champions of the Premier League one day.
Brazilian Stars In Portugal - Nacional da Madeira
Nacional da Madeira are a team in the Portuguese Second Division and are expected to do really well in the league, with the media predicting them to come in fourth place. They've only just been relegated so the club will hope to return to their former glory.
The club boasts great training facilities and good youth facilities, so you'll be able to develop your youngsters nicely. Your squad is pretty solid for the league you're in, and you aren't in financial dire straights for the moment.
The interesting bit of Nacional da Madeira is the constraint your board puts you under. Now, this might not be a disadvantage per se, but it's an interesting restriction. The club's culture requires you to sign Brazilian players. This might be an easy one to deal with, as there are plenty of Brazilian wonderkids to sign up and dominate your league. However, there's a chance your board might get annoyed if you make a better signing if they're non-Brazilian. Something extra to keep in mind as you bring Nacional da Madeira to glory they've never seen before and topple the big 3 in Portugal with your team of Brazilians.
Restore to Glory - Schalke 04
Schalke finished second place in the Bundesliga in 2018. In 2021, they were relegated. A series of crises and a lack of stability at manager contributed greatly to this, and now the club is predicted to finish down in 15th place.
What a fall from grace. However, with the club's excellent training and youth facilities still in place and a large fanbase you'll have to work hard to win back, you could very well get Schalke 04 back on track and up in the Bundesliga where they belong. Who knows, with a few years you might even get back to every German club's mission: toppling Bayern from their crown.
Don't get ahead of yourself though - there's a long rebuild ahead.
Ryan Reynolds / Rob McElhenney FC - Wrexham AFC
Managing a team owned by Ryan Reynolds to the top of the game would be pretty cool, to be honest. Predicted to win the Vanarama National, you'll have high expectations when you start playing. However, your squad is good enough to live up to these hopes. It's also really funny that Rob McElhenney from Always Sunny is the director you speak to about club matters.
You'll have both McElhenney and Reynolds in your inbox the whole time as you get your squad up the league system and bring glory to the North Wales town of Wrexham. Who knows, maybe you'll end up getting the place the city status they've always dreamed of.
Your squad is extremely talented for this level too - James Jones and Paul Mullin are both players who wouldn't be out of place in League 1, two divisions above you. When bigger teams start coming for your players, that's where the challenge begins. It's a classic road to glory save with a Hollywood twist.
Of course, it's entirely up to you which team you go for - if some random squad in the Danish third-tier speaks to you, then who am I to stop your calling? That's the beauty of Football Manager - no one story is the same.