FIFA 22 has arrived and while we all can't wait to score goals what about the other end of the pitch? Attack wins you games, but the defence will win you titles.
Take a look through our ultimate guide to defending on FIFA 22, including five tips, where to practice defending, and the top-rated defenders this year.
Our guide on best players in the game:
Five best ways to defend on FIFA 22
1) Manual player switching
This may take a while to master but once you do, you'll never go back. Everybody knows about the automatic player switching with the L1/LB button, but manual switching gives you so much more control. When defending flick the right stick in the direction of the player you want to control next and the game will give you that player. No more screaming "I didn't want that player!".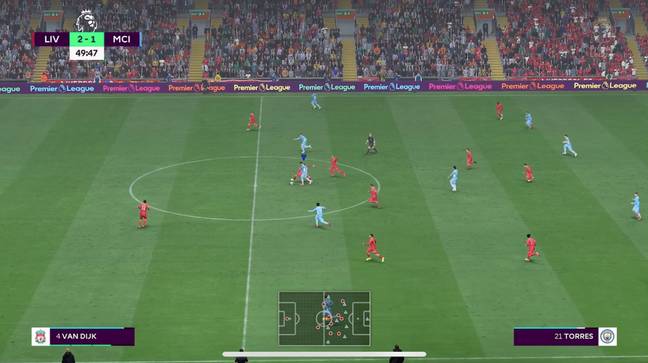 When seeing a player charge towards your defence it can be tempting to go charging in to get the ball back. This in most cases is the worst thing you can do. It pulls your defender out of his defensive line and gives space for your opponents to attack. Instead, hold your position and move with the rest of your defensive line.
This is also the case with the secondary contain you can execute with R1/RB. Make sure you use it sparingly, if your opposition is boxed in with nowhere to go it makes sense to use it. But using it in the middle of the pitch will create gaps for you to be exploited.
3) Jockey is key
One of the most underrated defensive skills on FIFA is the jockey. If you can master this, you'll find yourself winning the majority of your defensive battles. By using L2/LT you can lean into opposition players. This is especially effective when the opposition winger has the ball near the touchline. This should bring you in tight to your opposition man allowing you to then go for the tackle. Don't forget to use this when shielding the ball out of play too.
If your opponent breaks through your defence and all that is left is your goalkeeper, you may feel like it's a lost cause. You can charge him down, but he'll probably just chip you. Did you know you can move your goalkeeper sideways in these situations? Press the right stick in and move left or right slowly and guess which way your opponent is going to shoot. You can also do this on free kicks to put your opponent off.
Speaking of goalkeeper movement don't make it obvious when bringing your goalkeeper out. If you start to bring him then stop your opponent may try to chip which will be easier for your backpedaling goalkeeper to save. Always make your opponent blink first.
5) Cancel slide tackle
While there's not much better than winning an inch-perfect slide tackle it can take a while for your player to get back to his feet especially if it's mistimed. While performing the slide tackle if you press the button again (Square/X) your player will cancel their tackling animation and get back to their feet quicker.
You should only slide in when you're convinced you will get the ball (and maybe a bit of the man if needed), but If you do mistime it especially in your own box this tip may just save you.
How to practice defending on FIFA 22
Now you have all these tips you'll want to put them into action. While playing games is the most obvious way there's also a host of defending skill games accessible from the menu.
The eight defending skill games range from beginner to advanced difficulty with two challenges at the end for you to test yourselves and enhance your skills. You can repeat these as many times as you like and will help you get used to the new skills you have learned.
Players with best defending stats on FIFA 22
With these new defending tips, you probably want to know the players with the top defending stats in FIFA 22. Liverpool's Virgil Van Dijk leads the way unsurprisingly but there's also one centre midfielder that makes the top ten.
Virgil Van Dijk – Liverpool – 91 Defending
Mats Hummels – Dortmund – 89
Marquinhos – PSG – 89
Giorgio Chiellini – Juventus – 89
Ruben Dias – Manchester City – 88
Sergio Ramos – PSG – 88
Milan Skriniar – Inter Milan – 87
N'Golo Kante – Chelsea – 87
Stefan de Vrij – Inter Milan – 87
Stefan Savic – Atletico Madrid - 87