Football
Eagle-Eyed Fans Hilariously Identify Hidden Detail In David Beckham's Family Christmas Photo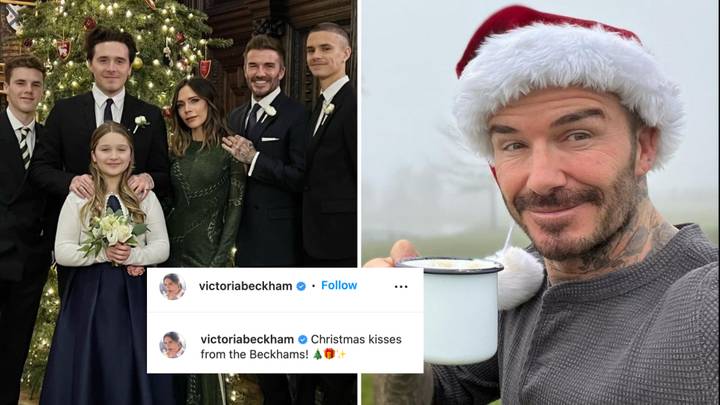 Manchester United legend David Beckham has been left red-faced after eagle-eyed fans identified an interesting detail in his family's Christmas photo.
Victoria Beckham took to Instagram on Christmas day to share a photo of herself alongside husband David and their four children: sons Brooklyn, Romeo and Cruz and daughter Harper Seven.
The Spice Girls star wrote to her 29.3m followers: "Christmas kisses from the Beckhams!"
Unfortunately for Beckham, fans immediately noticed that the Inter Miami co-owner and president was standing on his tippy-toes for the photo.
The 46-year-old former England captain is approximately 5'11", with his additional height boost from his tiptoes putting him slightly shy of Romeo.
"Wait, is David on his tip-toes!!??" one fan asked in the comments.
While another posted: "Amazing pic, especially Mr Beckham on his tiptoes."
Someone else wrote: "David is standing on his toes. Funny! Merry Christmas from Holland."
A fourth Instagram user said: "So cute that David is on his tiptoe trying to be the same height as his boys, bless him."
And a fifth added: "Look at David on his tippy-toes trying to keep up with his son."
Cruz, who is 16 years old, is out on the far left in Victoria's photo and is believed to be 5'7".
Meanwhile, Brooklyn is stood next to his mother and in front of Harper Seven, with Beckham's oldest son believed to be 6'1".
Beckham, whose remarkable playing career came to an end in 2013, was filmed by Victoria getting in the mood for Christmas.
Victoria uploaded a video on Christmas Eve of the former Paris Saint-Germain and Real Madrid star singing 'The Christmas Song.'
"Does anyone love Christmas as much as my husband?!? [David Beckham] kisses [Adele]," she wrote.
Beckham also took to his Instagram page to share his excitement about Christmas ahead of the festive holiday.
"Very Christmasy over here. Coffee & wine (I promise the wine was yesterday) Happy Christmas eve. Who's more excited me or the kiddies?" he wrote to his 70.2m followers.