When Mike Tyson Stunned Ricky Hatton With Incredibly Emotional Life Advice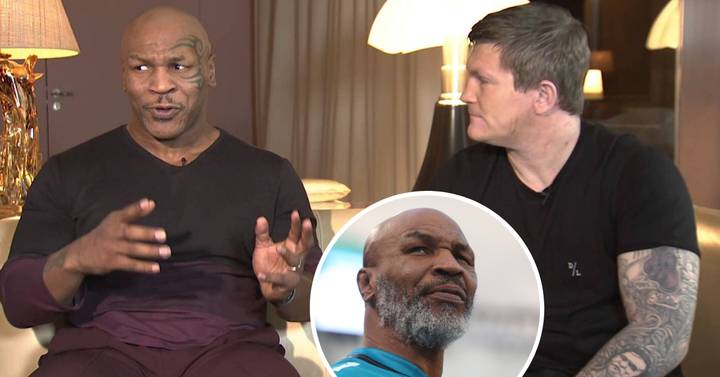 Mike Tyson left Ricky Hatton visibly emotional after delivering a powerful, personal speech about how much love there is out there for Britain's former world champion.
Hatton has struggled with depression since his boxing career ended, admitting he came close to suicide on several occasions. Tyson has battled inner demons for decades - and he shared some heartfelt wisdom on how the sporting world views Ricky when they met face to face.
"He doesn't see himself with the same eyes that everybody else sees him with," he said to Hatton when the pair appeared on BT Sport in 2013.
"People respect him; they respect the man. I respect Ricky. You'd be hurting the wrong person if you hurt yourself."
Hatton looked close to tears at Iron Mike's words, as interviewer Clare Balding simply let the former undisputed heavyweight champ pour his heart out.
"You're feeling down on yourself - but you can accomplish [anything]," he says, adding: "You're a good guy, man. You're a beautiful person."
Manchester's 'Hitman' has struggled with various personal issues since his 2009 retirement (interrupted by a brief comeback in 2012). He has also had a lengthy fallout with his parents, a rift which was thankfully mended in 2019.
Tyson references that family feud, finishing with: "Stop thinking down and beating yourself up. You're a good guy. Stop. People love you. Talk to your mother - we all make mistakes, we're only human. We're not gods. We think we are, but we're not."
The advice couldn't be coming from a more authentic source, as Tyson knows all too well the highs of global adulation and sporting success, plus the lows of depression and addiction.
It's also that his words have often been shot-through with a painful, compelling honesty that speaks to the lows many boxers experience.
There's no better evidence of how powerful this can be than the way in which he speaks to Ricky. Manchester's former welterweight champ can only mutter a hushed "absolutely" in reply, before Balding delicately decides to end the joint interview rather than pushing a visibly affected Hatton for a response.