The Brisbane Broncos are struggling at the moment, but they've reportedly got their eye on a player who could potentially solve all their problems.
Under-fire head coach Anthony Seibold confirmed on Wednesday that the out-of-form Queensland side are considering a future move for 37-year-old Cameron Smith.
Currently sitting in 15th place on the NRL ladder, the Broncos are crying out for a leader in the dressing room following a number of underwhelming performances and off-field drama this season.
And it appears they've locked their sights on a man who could single-handedly salvage the sinking side's fortunes: NRL great Cameron Smith.
"Of course, it is something we would consider but it is a really long bow. Would he add something to us? Could he add something to us? Of course he could," Seibold said.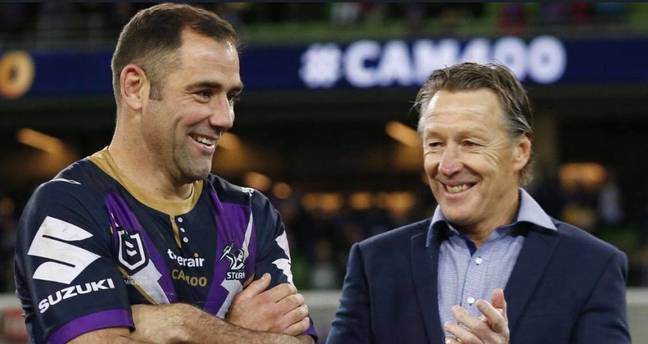 "I worked with Smithy for five years at club level and rep level so I do have a really good working relationship with him. It is not something I have spoken to Cameron about or he has spoken to me about.
"He's a Melbourne Storm player, he's been captain of that club for a long time. I think any player who comes onto the market who we think could add something would get consideration from us."
Brisbane now have around $2.5million in free cap space available after David Fifita parted ways with the club in favour of a $1.5million Gold Coast Titans deal.
And after nearly joining the Broncos when he was just 17 years old, the prospect of a fairytale finish in his hometown state could sway the Queensland legend into leaving his beloved Melbourne Storm.
"A little bit of experience would be something to add to the group, going forward," Seibold said.
"I am not sure how long he wants to play for but Cameron would add not only experience but leadership and quality on and off the field to any organisation or any team... but I would assume that Cameron would finish his career at the Melbourne Storm."