SPORTbible
http://www.sportbible.com/
http://www.sportbible.com/assets/images/theme/logo.svg
When Lewis Hamilton won the British Grand Prix in July it sparked incredible scenes at Silverstone as the then World Champion joined his fans to celebrate. However those scenes may soon be a thing of the past as the famous course considers dropping the event.
Back in July Hamilton captured his fourth win at Silverstone and cut Nico Rosberg's championship lead down to one point. After the shenanigans in Austria a week before it felt like at that point the Brit would be on course to capture his third world title in a row.
Silverstone has been the home of Formula One in Britain since 1987 and is one of the most iconic and historic track on the entire F1 circuit having first held the race in 1950. Corners such as Copse and Becketts have become synonymous with the sport.
However according to ITV News a letter from the British Racing Drivers' Club's chairman shows that due to running costs the track could exercise the break clause in their contract with Bernie Ecclestone in 2019.
"...the Board is considering whether we should give notice before the 2017 BGP (as required) of our intention to exercise the break clause in the BGP contract at the end of 2019.
"This is not a simple decision, and we will consider fully all the implications before coming to a conclusion by mid-year."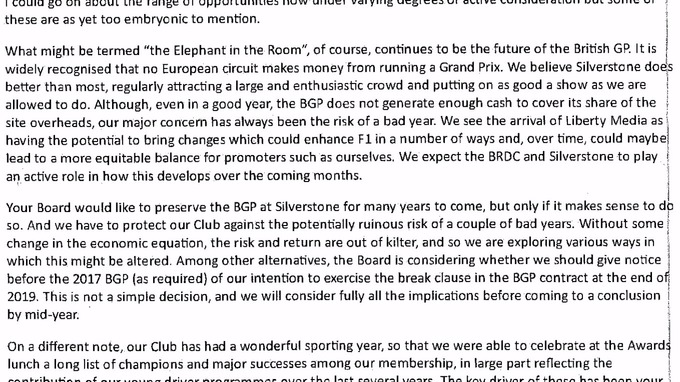 The BRDC, which owns Silverstone, has a deal in place with Ecclestone and F1 to host the race until 2026 but there is a clause in the contract that allows for a break from the deal in 2019.
Speaking to ITV about the situation Ecclestone said, "If they want to activate a break clause, there is nothing we can do.
"Two other tracks have contacted us and we are keen to keep a British Grand Prix, there is no doubt about it, we want to have one. As far as Silverstone is concerned, it's not in our hands."
Despite Ecclestone's unsurprising optimism about finding a new location F1 legend Jackie Stewart was less certain of the races future should Silverstone back out saying, "I think it's a credible threat. Not impossible for it to happen. I would be very sad if it did. There's no other race track that would be able to host the British Grand Prix"
As the cost of Formula One rises races could be left to the super rich.